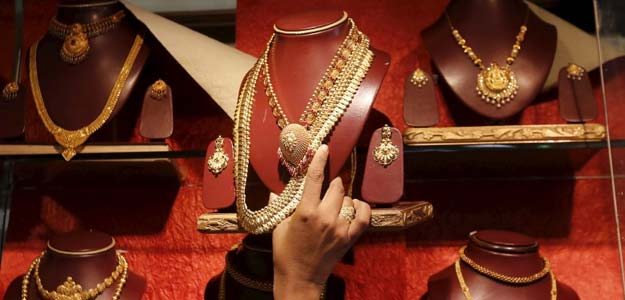 London:
Gold hit its highest since mid-May on Monday, driven higher by a retreat of the dollar and as stocks were knocked by rising risk aversion before key central bank meetings this week and a June 23 vote on whether Britain should leave the European Union.
The pound fell to a two-month low against the dollar, pushing gold denominated in sterling to its highest in nearly three years at 909.83 pounds an ounce, up 1.9 percent.
Spot gold was up 0.8 percent at $1,283.66 an ounce at 0940 GMT, off an earlier peak of $1,284.50. U.S. gold futures for August delivery were up $11.10 an ounce at $1,287.00.
Fading expectations for a Federal Reserve rate hike have driven prices sharply higher so far this month. Gold has rallied 6 percent since U.S. payrolls data for May came in weaker than expected on June 3, crushing expectations for an interest rate hike over the summer.
"Following the labour market report a Fed rate hike has been priced out for June and July, and at the same time it seems as if odds for the UK to leave the European Union have come back up again," Danske Bank analyst Jens Pedersen said.
"Those two factors are benefiting gold."
Fears Britain is on the verge of voting to leave the European Union next week spread through global financial markets on Monday, sending Asian and European shares sharply lower. The dollar fell 0.2 percent against the euro.
The Fed, Bank of England, Swiss National Bank and Bank of Japan will all meet this week, and are expected to hold monetary policy steady against a backdrop of caution about the global economic outlook as well as the impact of a possible Brexit.
"The UK referendum on EU membership has implications across many asset classes but gold, as the ultimate barometer of financial and economic tension, is currently the asset class showing one of the highest levels of sensitivity to the possible range of outcomes," Citi said in a note on Monday.
"Gold has fluctuated in line with the Brexit opinion polls, even dislocating it from its usual primary-link with the U.S. dollar."
Holdings in the world's largest gold-backed exchange-traded fund, SPDR Gold Shares, rose 0.74 percent to 893.92 tonnes on Friday, the highest since October 2013.
Among other precious metals, silver was flat at $17.31 an ounce, while platinum was up 0.5 percent at $995.22 an ounce and palladium was 0.7 percent higher at $546.79 per ounce.
© Thomson Reuters 2016
(This story has not been edited by NDTV staff and is auto-generated from a syndicated feed.)