GoAir is offering domestic flight tickets starting at an all-inclusive price of Rs 1,157 on select routes under its 'Fare so low, Fly with Go' sale. According to the official website of GoAir (goair.in), the tickets for availing this GoAir's discount on domestic flight tickets can be done till January 22. The travel period of GoAir's sale also ends on January 22, 2018. Customers can also avail an extra 10 per cent discount by using promo code 'GOAPP10' when the booking is done via GoAir mobile app, said GoAir website.

GoAir is offering discounted domestic flight tickets on the routes of Jammu-Leh (starting at Rs 1,157), Lucknow-Delhi (starting at Rs 1,485), Delhi-Lucknow (starting at Rs 1,588), Bengaluru-Kochi (starting at Rs 1,703), Mumbai-Ahmedabad (starting at Rs 1,844), Delhi-Nagpur (starting at Rs 1,920), Ahmedabad-Mumbai (starting at Rs 1,924), Ahmedabad-Jaipur (starting at Rs 1,935), Bengaluru-Pune (starting at Rs 2,162), Chennai-Hyderabad (starting at Rs 2,199), among others.
Schedule of GoAir's 'Fare so low, Fly with Go' sale: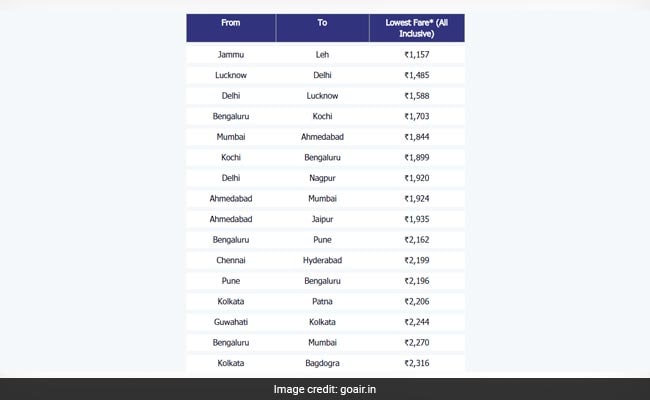 3. There are limited seats only.
4. Group discount is not applicable on this offer of GoAir.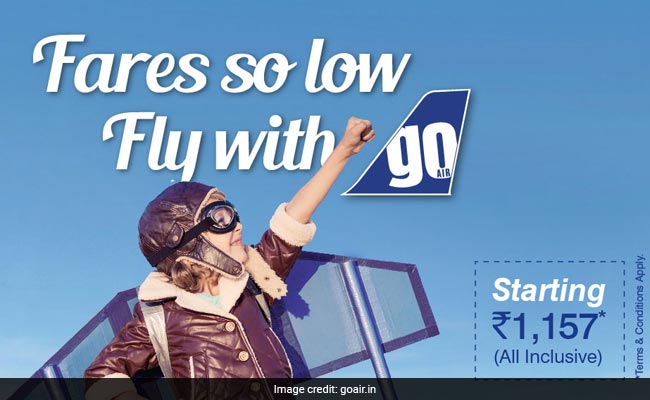 5. GoAir reserves the right to cancel/modify/substitute/alter any aspect of this offer either partly or entirely, at its sole discretion without reason or prior notice.

6. Other terms and conditions and limitations of liability are applicable as per the 'Citizen's Charter' that is displayed on www.GoAir.in (GoAir website).

7. GoAir Offer is not applicable for infant booking.
Get Breaking news, live coverage, and Latest News from India and around the world on NDTV.com. Catch all the Live TV action on NDTV 24x7 and NDTV India. Like us on Facebook or follow us on Twitter and Instagram for latest news and live news updates.