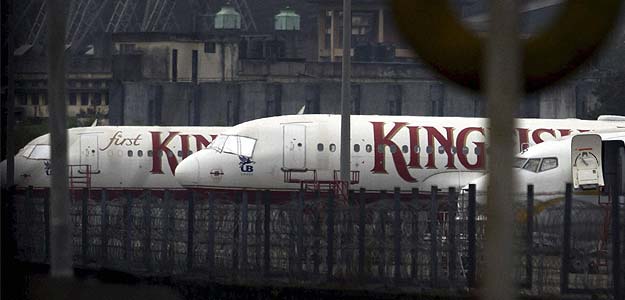 Hyderabad:
MAS GMR Aero Technic Ltd, a unit in GMR's Aviation SEZ at Rajiv Gandhi International Airport here, has sought Commerce Ministry's permission to carry out repair works on 14 aircraft once operated by Kingfisher Airlines and make them in flying condition.

The aircraft (7 ATRs and 7 Air Bus 320) were grounded in various airports of Delhi, Chennai, Bengaluru and Kolkata due to operational problems and subsequent financial crisis faced by the airlines.

The Board of Approvals, set to meet on January 17, will take a decision on the issue even as the development commissioner of Visakhapatnam, SEZ has strongly recommended for consideration, according to the BoA agenda.

"These aircraft are not in flying condition. DGCA has deregistered these aircraft and allowed the lessor to take over them. The lessors Awas and Investee, the real owners of the aircraft, approached them for aircraft recovery. They (MAS GMR Aero Technic), therefore need to send their engineers along with required tools and spares for repair and make the aircraft in flying condition," the BoA agenda said.

Awas is a Dublin-headquartered global leader in commercial aircraft leasing.

When contacted, a senior official of GMR Group said they need BoA's approval before taking up the MRO work as the aircraft were located outside the SEZ area.


In March last year, the DGCA had deregistered 15 aircraft of Kingfisher Airlines to enable global leasing companies to take them back on grounds of default on their lease rentals by the grounded carrier.
Flitch rating had earlier said they see the Kingfisher experience as important in underscoring the risks associated with leasing to start-up airlines that lack a proven operating track record and often fail to become profitable after launch.
In India and many other emerging economies, where rapid demand growth has spurred market entry by unproven carriers, lessors face the need to reflect higher risk through pricing or potentially stricter concentration limits, the rating agency had said in its report last year.
MAS GMR Aero Technic Ltd (MGAT) is a 100 per cent wholly- owned subsidiary of MAS GMR Aerospace Engineering Company Limited (MGAE).
MGAE has developed an integrated, third party airframe Maintenance, Repair and Overhaul (MRO) facility at RGIA. MGAT is the operating company of this MRO facility.