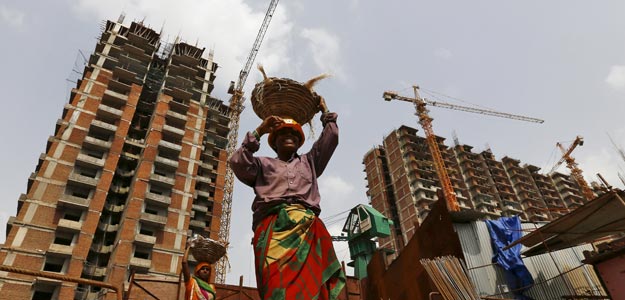 India's GDP growth slowed down sharply in the June quarter, raising doubts about the health of the nearly $2-trillion Indian economy. GDP measures the size of all goods and services produced in the country.
Here are 10 things to know about the GDP data:
1) In a setback for Prime Minister Narendra Modi's 15-month-old government, June quarter GDP growth decelerated sharply to 7 per cent as compared to 7.5 per cent in the March quarter. The median estimate from a Reuters poll of economists put Q1 GDP growth at 7.4 per cent.
2) Weak growth in the June quarter raises doubts about the government's ability to meet its annual growth projection of 8-8.5 per cent GDP growth, analysts say.
3) "Growth conditions are still weak and are picking up in a very, very gradual manner," said A. Prasanna, economist at ICICI Securities Primary Dealership.
4) India matched China's growth in the June quarter, but the loss of momentum in growth will put the spotlight on the slow progress in reforms. The last session of Parliament, where the Goods and Services Tax bill was supposed to be cleared, turned out to be a complete washout.
5) Weak showing by manufacturing and services sectors growth pulled down the overall economic growth, analysts said.
6) However, agricultural output increased by 1.9 per cent sequentially; Mining activity also improved to 4 per cent against 2.3 per cent in the previous quarter.
7) The GDP data will strengthen the chorus from PM Modi's administration for a rate cut. Some bureaucrats are already arguing for an immediate reduction of as much as 50 basis points in the Reserve Bank of India's main 7.25 per cent policy rate.
8) "We expect RBI to cut interest rates by 25 basis points in September as global growth concerns still continue and India is importing low inflation thanks to easing commodity prices," said Madhavi Arora of Kotak Mahindra Bank.
9) In another significant development, economic growth measured by GVA (Gross Value Added) jumped 7.1 per cent in the June quarter as against 6.1 per cent in the previous quarter.
10) "The main reason for GVA to be higher than expected is due to the surprise agriculture growth. Going ahead we expect agriculture growth to weaken due to the uneven monsoon, which will pull down the growth number," Mr Prasanna said.
(With inputs from Reuters)