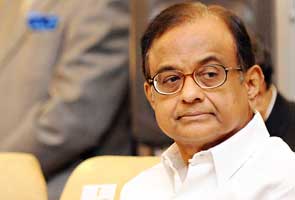 New Delhi: Former finance minister P Chidambaram on Tuesday said India can achieve 8 per cent growth in the next 2-3 years by following the path of fiscal prudence.
"I remain very confident despite change in government, that if we remain firmly on the path we will get back to 8 per cent growth in about 2-3 years," Mr Chidambaram said at an event in Delhi.
Indian economy grew by 4.9 per cent in fiscal year 2013-14. However, in the April-June quarter, the growth picked up to 5.7 per cent.
If the government continues to remain on the path of fiscal prudence, promotes savings and investments, and be more diligent in implementing projects, it would be possible to get back to 8 per cent growth, he said.
The economy was growing at over 9 per cent before it was impacted by the global financial crisis of 2008.
"Financial sector reform is also very much required for achieving 8 per cent growth. FSLRC (Financial Sector Legislative Reforms Commission) has made far reaching recommendations, some are legislative, some are non-legislative in nature," he said.
"Non-legislative recommendation should be carried out over a period of next 2-3 years."
He further said it is possible to finance 8 per cent growth by domestic savings and some foreign direct investment (FDI).
"Anything more than 8 per cent is bound to become inflationary which will exacerbate fiscal deficit. We have to borrow more and there are consequences of borrowing more and enlarging the fiscal deficit and current account deficit," he added.
Mr Chidambaram further said that the key to controlling inflation was to contain fiscal deficit. Government aims to bring down fiscal deficit to 4.1 per cent in the current fiscal from 4.5 per cent in 2013-14.
He said 8 per cent growth would help create employment for 10 million people.
Appreciating the Narendra Modi government's decision to abolish Planning Commission, Mr Chidambaram said the body has outlived its utility.
"I believe that the right decision was to end the Planning Commission and what should be in place is only a much smaller, not more than 100 people in the new body," he said.
He further said that only those people should be inducted in the body who can do prospective planning, and lay out the future roadmap and finally leave it to the ministry.