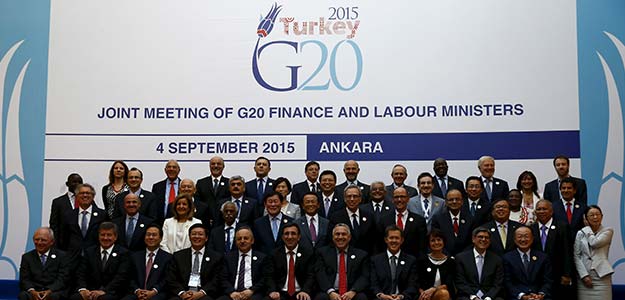 Ankara
: Financial leaders from the world's 20 biggest economies agreed on Saturday to step up reform efforts to boost disappointingly slow growth, saying reliance on ultra-low interest rates would not be enough to accelerate economic expansion.
But they also said they were confident growth would pick up and, as a result, interest rates in "some advanced economies" -- code for the United States -- would have to rise.
"Monetary policies will continue to support economic activity consistent with central banks' mandates, but monetary policy alone cannot lead to balanced growth," the communique of the G20 finance ministers and central bankers said.
"We note that in line with the improving economic outlook, monetary policy tightening is more likely in some advanced economies."
The wording defied pressure from emerging markets to brand an expected US rate rise as a risk to growth.
"We heard different opinions on the possible Fed decision. Some think the Fed needs to make a decision sooner rather than later, while others think it should delay," Turkish Deputy Prime Minister Cevdet Yilmaz told a news conference.
To limit the volatility of capital flows from emerging economies into dollars -- the reason for concern about a future Federal Reserve hike -- G20 financial leaders said they would avoid any surprise or excessive moves.
"We will carefully calibrate and clearly communicate our actions, especially against the backdrop of major monetary and other policy decisions, to minimise negative spillovers, mitigate uncertainty and promote transparency," they said.
Concern about the turbulence that might be caused by a possible Fed rate hike was amplified by investor worries over an economic slowdown in China, the world's second-biggest economy.
G20 officials said they discussed the devaluation by China of its yuan currency in August, a move some may see as a realignment to market rates rather than a move to help exports.
"Many supported the measures that China took... the ministers were very tolerant," Russian deputy finance minister, Sergei Storchak told a news briefing.
The Chinese devaluation as well as the stock market plunge on growth jitters were all part of a difficult path to a more liberal economy, officials said.
"It's an unbelievably difficult transformation and it's not surprising that there are bumps, that it's not a perfectly smooth process, and I think we had plenty of explanations, opportunity to ask questions, and it was a dialogue, and a very open one," IMF head Christine Lagarde said after the meeting.
But some were less impressed.
"Their explanations weren't very good. They should have been much clearer," said Japanese Finance Minister Taro Aso about the Chinese.
US Treasury Secretary Jack Lew noted that global economies were keen to see the world's second-largest economy move to an exchange rate that reflected market fundamentals.
"When the world has called on China to move toward a more market-determined exchange rate, it's in the context of doing so in an orderly way with clearly articulated policies that can be understood and that reinforce themselves in a positive way," he said in a statement.
Low rates alone "won't cut it"
G20 officials welcomed strengthening activity in some economies but said that growth fell short of expectations because reforms were not being implemented quickly enough.
Last year, G20 leaders agreed to boost global output over the next five years by 2 per cent above what was already expected at the time through coordinated reforms and investment.
But they were behind schedule, the G20 communique indicated.
"We are making progress towards our commitments (but)... more effort is needed for implementation," the statement said.
Ms Lagarde was even more explicit, making clear governments had for too long relied on the supply of cheap cash from central banks that have been running ultra-loose monetary policy.
"Monetary policy alone will not cut it. It is necessary. It is recommended from our perspective, particularly in Europe and in Japan still, but it will not cut it on its own," she said.
"Clearly in the fiscal sphere as well as in the structural reforms sphere, more needs to be done, and it needs to accompany and eventually take the baton from the central bank governors."
But, in what appeared to be a vicious circle, the reforms were made more difficult by the weaker global growth, Canadian Finance Minister Joe Oliver told reporters.
"We're making progress, but the base that we hoped we would have, we haven't arrived at, because the growth has been disappointing and the projections have been downgraded," Oliver said, adding that one-third of the G20's extra growth commitments have been implemented.
Boosting investment was key, the G20 financial leaders agreed. Governments will prepare their final investment strategies by November, when G20 leaders are to meet to discuss them in Antalya in Turkey.
While not a topic of the agenda, officials informally discussed on the sidelines China's ambitions for its yuan currency to become part of the special drawing rights (SDR), a virtual currency used only by the IMF.
Washington's Lew voiced an openness to that happening, as long as China carried out promised reforms.
"If they make the kinds of reforms that they have committed to and indicated they are prepared to make, there's an openness to a positive outcome of the review."
© Thomson Reuters 2015