Highlights
Offer applicable on Vivo smartphones bought from March 20 to May 15
PerfectVIVOIPL scheme also offers free round trip, free 5-star hotel stay
Winners to be announced every week, says Chinese smartphone brand Vivo
Vivo is offering some of its customers free premium tickets to Indian Premier League or IPL 2017 finals. Customers buying Vivo smartphones between March 20, 2017 and May 15 are being offered a chance to win "free VIP ticket to VIVO IPL finals", Vivo said on its website - vivo.co.in. The offer, Vivo added, is valid till May 15, 2017. The promotional scheme by Vivo also offers a free round trip and free 5-star hotel stay. "Lucky winners to be announced every week," Vivo said. Vivo customers with
Jio connections
are also being offered up to 168 GB of 4G data in another scheme called "
Vivo-Jio Cricket Mania
". Vivo is this year's title sponsor of the Indian Premier League.
To participate in Vivo India's "PefectSelfiePerfectVIVOIPL" promotion, aimed at IPL 2017 fans, customers must have a Vivo smartphone, the IMEI 1 number of which will be required among other details while logging onto the PerfectVIVOIPL page on Vivo website. An IMEI or International Mobile Equipment Identity is the unique serial number of every GSM mobile used by networks to identify phones. "Dial *#06# from your phone or check your Phone Box to find your IMEI 1 Number," said the Vivo website. Users will receive a notification via SMS and email on submitting the details.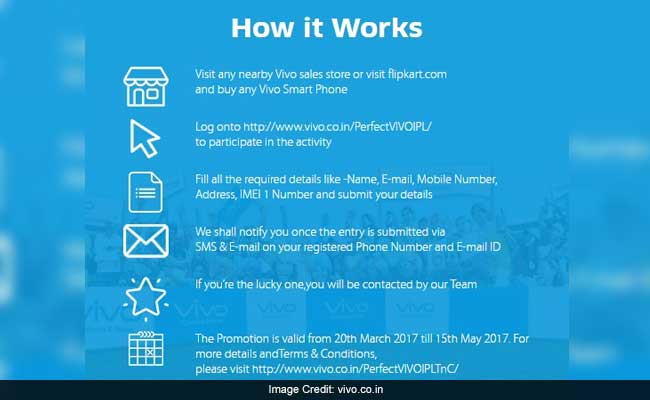 Here are few other things to know:
The PefectSelfiePerfectVIVOIPL scheme is open for Indian residents above 18 years of age.
The offer covers an all-expense-paid trip to watch the IPL 2017 finals in Hyderabad.
The benefits include airport transfers, a round economy class ticket from your origin city to Hyderabad, 5-star stay for 1 night in Hyderabad including F&B (non-alcoholic beverages only) and a VIP ticket to watch the match, Vivo said.
One winner for a trip to the VIVOIPLfinals will be picked every day during the Promotion Period through randomizer software, Vivo said.
Lucky customers will be contacted by Vivo India representatives on the number used for participation. "The winner will be contacted 3 times over a period of 24 hours to inform him/her of the win through calling and/or email. In the event that the winner is not contacted in the 3 tries the Organizer shall be at a liberty to either forfeit the prize or pass on the prize to the next winner," Vivo added.
Vivo India also said: "One mobile number/one person can win only one prize during the promotion."
Golden opportunity for all the #VIVOIPL fans! #PerfectVIVOIPL

Click here to know more:https://t.co/KNoSIvbDLLpic.twitter.com/W3v8NxsAbl

— Vivo India (@Vivo_India) April 16, 2017
Stay tuned for the next episode of #VivoCam. Till then can you guess the celebrity here with @samirkochhar? #VivoIndiapic.twitter.com/UyNYZQ5IeC

— Vivo India (@Vivo_India) April 17, 2017