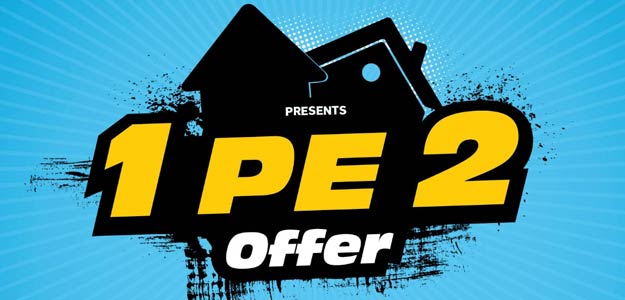 Buy a flat and get one free. Yes, that's what Noida-based realty firm Supertech is promising to buyers of apartments in one of its projects. Cars, LCD TVs and foreign trips have been the more common freebies doled out by developers to attract buyers in bad times.
In a bid to do something different, many developers have also taken the e-commerce route to sell flats this year. But Supertech's offer beats them all.
Buyers can get a studio apartment free if they buy a top-floor flat in Supertech's Cape Crown project in Noida. The company is also offering flipkart vouchers worth Rs 1 lakh.
Developers have been forced to come out with such eye-popping offers because of the sharp slowdown in property sales. While, demand for new homes has been under pressure across the country, the extent of slowdown in the National Capital Region is most palpable, analysts say.
Once a booming market for real estate, the NCR market - comprising of suburbs such as Noida, Greater Noida, Faridabad and Gurgaon- is now home to several unfinished high rises.
"A large portion of the total unsold residential inventory is in the under-construction projects, while completed projects have only moderate vacancy," says Anuj Puri, chairman & country head, JLL India. (Read)
The extent of crisis for developers operating in NCR can be gauged from their performance in stock markets this year.
Shares in DLF, India's biggest developer are down 23 per cent year-to-date as compared to 30 per cent gain in the BSE Sensex. DLF has also been hit by a series of regulatory challenges, which have dented the company's fortunes on the Dalal Street. (Read the full story here)
But not a single company from NCR has been able to beat the Sensex in 2014. Anant Raj is down 29 per cent, while Parsvnath Developers has fallen 37 per cent year-to-date. Unitech has gained just 3 per cent.
Most of these companies are also reeling under high debt, which has impacted their earnings and shares.
In contrast, Mumbai/Pune focused players have fared much better. Phoenix Mills is up 61 per cent, HDIL has gained 23.5 per cent and Kolte Patil has surged 123 per cent.
The reason for the divergent performance between the two groups of companies can be explained by the inventory data (unsold flats) in the two markets. (Read)
According to reports, real estate inventory in NCR, at the end of September quarter, stood at a record 83 months. For Mumbai Metropolitan Region, the inventory level was just 50 months.
The number of unsold flats has gone up despite fewer launches. "During the year 2014, new launches of residential units saw a consistent fall every quarter as a consequence of the subdued demand and high prices," Mr Puri said.
The fact that developers have refused to slash prices has not helped demand, analysts say. But freebies are likely to continue as long as weak demand persists, analysts say. (Read)
Apart from fewer launches and more freebies, builders are also focusing on affordable segment to boost demand.
"In the second half of 2014, many large developers who in the recent past concentrated on the mid-to-high segment due to better margins were seen eager to play the volume game and entering into affordable-segment projects in the deeper suburbs," Mr Puri says.
Analysts expect 2015 to be a better year as interest rates are expected to fall as early as in February and the GDP is expected to grow above 6 per cent, leading to more jobs and larger hikes.