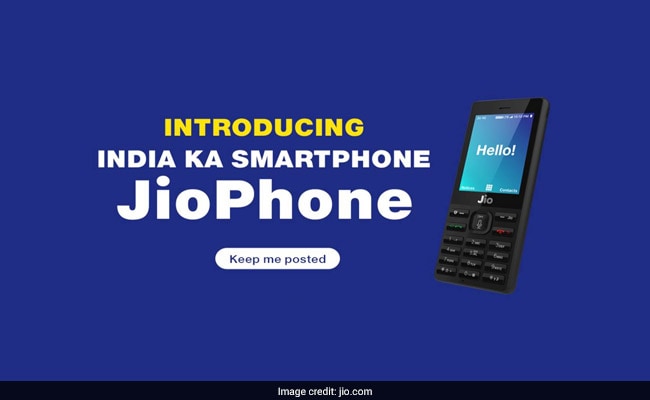 Highlights
4G feature Phone JioPhone will be available from September
Bookings for JioPhone to open on August 24
JioPhone likely to create disruption in telecom industry, say analysts
Reliance Jio's much awaited JioPhone will be made available in September. The JioPhone will be given on a first-come-first-serve basis to those who book the phone starting from August 24, the company had said earlier. Reliance Jio has already started beta testing the JioPhone, a 4G feature phone. The JioPhone will be available effectively "free"- at a refundable deposit of Rs 1,500. Analysts say the JioPhone is likely to create a major disruption in the telecom industry and may prompt other major telecom operators to come out with similar 4G feature phones in the near future.
A Reliance Jio customer care executive said that you can also register your interest for the JioPhone through SMS. To register your interest you have to type "JP<>your area PIN code<>Jio Store code near your locality" and send it to 7021170211. You can get the store code by visiting your nearest Jio store near you.
Those who are interested to book a JioPhone can also register their interest on the Jio website by clicking on the "
Keep me posted
" link.
Once you register, Reliance Jio will keep you informed about any further development on JioPhone. Details like opening of booking near your Jio Store will be informed to you through SMS.
The entry-level phone will allow its users to do unlimited voice calls, enjoy free data and SMS at a monthly recharge of Rs. 153. The phone will also give free access to Jio apps for 28 days. Jio also had earlier said that two sachet recharge packs, priced at Rs. 24 and Rs. 54, will also be available for JioPhone. These packs allow users to use data and call benefits for two days and seven days respectively.