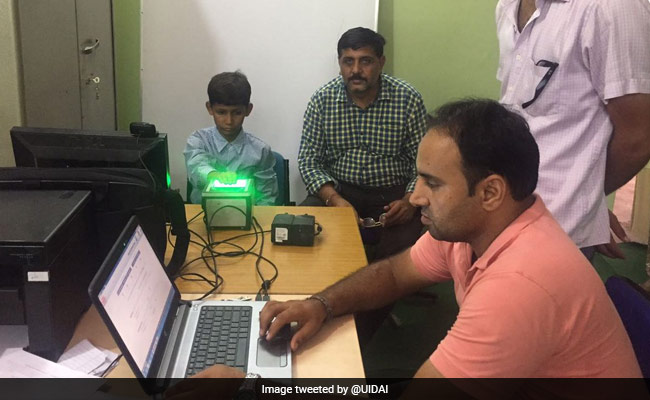 Highlights
Quoting of Aadhaar number is mandatory for all mobile phone numbers
Many telecom companies have asked their customers to provide Aadhaar no
Aadhaar linking is also mandatory for PAN, bank accounts as well
Quoting of Aadhaar number - the 12-digit number given on the Aadhaar card - has been made mandatory for many essentials. These range from filing of income tax returns (ITR) to applying for a PAN or permanent account number to using a mobile phone connection. The government is moving ahead with linking Aadhaar with mobile SIM cards, according to a report by news agency Indo-Asian News Service (IANS). All mobile phone numbers or SIMs not linked with Aadhaar will be deactivated after February 2018, the agency said citing informed sources. Many telecom companies have asked their customers to finish the process of linking their Aadhaar card with the mobile number citing a government directive.

Aadhaar is based on biometrics-based data. Aadhaar number is a 12-digit unique identity number issued by the Unique Identification Authority of India (UIDAI). Aadhaar card number or Unique Identity Number (UID) is also to be shared with financial institutions and has to be submitted to avail the various social security schemes.

Be it linking of Aadhaar with PAN, mobile SIM cards or bank accounts, there are different deadlines specified in each case. Here are four important deadlines to remember for you to link your Aadhaar card with various documents or products:
Four important Deadlines For Linking Of Aadhaar Card
1. Deadline for linking Aadhaar with PAN: December 31, 2017

In August, the Central Board of Direct Taxes (CBDT) extended the last date for linking of Aadhaar with PAN "to facilitate ease of compliance by the taxpayers". The new deadline is December 31, 2017. Earlier, this deadline was August 31, 2017. Linking Aadhaar-PAN is mandatory for processing of income tax returns (ITRs) for assessment year 2017-18, the income tax department has said.

"If this linking (PAN-Aadhaar) is skipped, the return could be considered invalid and the person may have to file it again which shall be considered belated and may attract penalty, interest and other consequences like disallowances for losses," says Sandeep Sehgal, director of tax and regulatory at Ashok Maheshwary & Associates LLP.

(Also read: How to link PAN card with Aadhaar card)
2. Deadline for linking Aadhaar with mobile number (SIM): February 2018

Mobile phone service users will have to link their Aadhaar numbers with SIM cards. Many telecom companies have now started sending alerts to customers about completing the Aadhaar-Mobile number linking process. They had earlier instructed their customers to start the process of linking their Aadhaar card numbers with phone numbers.


"As per the government directive, linking Aadhaar to your mobile number is mandatory for all existing customers," Bharti Airtel, the country's largest telecom operator, said on its website. (
Read
:
Telecom operators share guidelines on Aadhaar linking
)
3. Deadline for submitting Aadhaar details to banks/financial institutions - December 31, 2017

The government has made it mandatory for all banks and financial institutions to mention the Aadhaar details of clients in the KYC (Know your Customer) document. A KYC document basically provides all the details that authenticate the identity of a user. People who have taken loans are also required to file their Aadhaar details. If you fail to link it with your bank account by December 31 this year, it may even become inoperable.
4. Last date to give Aadhaar details to avail social security schemes - December 31, 2017

Aadhaar number has to be provided for all social security schemes by December 31, 2017. However, in a big relief, the Centre on Wednesday extended the deadline for obtaining Aadhaar for availing government schemes and subsidies by three months to December 31. This extension is, however, only for those who are yet to apply for Aadhaar, an order issued by the Ministry of Electronics and Information Technology said.

In order to avail pension, LPG cylinders or government scholarships, one must provide his or her Aadhaar card details.


Meanwhile, the government also plans to make linking of
Aadhaar mandatory
for driving licence. "It (Aadhaar-Licence linking) would be done soon to check the menace of multiple licensing," Electronics and IT Minister Ravi Shankar Prasad has said.
(With agency inputs)