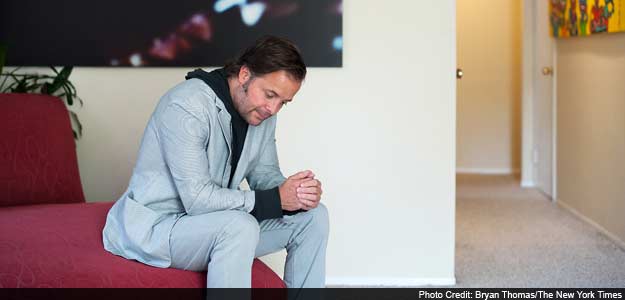 Dix Hills, New York:
Turney Duff, former stock trader, recovering cocaine user and first-time author, stepped out the front door of his new home, the ground floor of a modest split-level house in a sleepy Long Island neighborhood.
"You want the grand tour?" Duff said, flashing a smile. "It'll take 30 seconds."
The humble environs stand in stark contrast to his digs a decade ago, when he lived in a $9,300-a-month triplex in Manhattan and earned nearly $2 million a year as a hedge fund player.
Duff traces his descent from the peaks of Wall Street in "The Buy Side," a raw and rollicking memoir about the sordid underbelly of big-money, fast-paced hedge funds. Set for publication Tuesday, the industry tell-all illuminates the world at the center of insider trading scandals. Duff's onetime boss, Raj Rajaratnam of the disgraced Galleon Group hedge fund, will spend the next decade in prison; an early mentor, David Slaine, was a crucial informant for the government.
"None of it surprises me," Duff said, referring to the dozens of indictments of his onetime peers. "I liken it to the steroid era in Major League Baseball; it wasn't about right and wrong but about getting an edge in a game where the stakes were huge."
And were it not for the drug problems that hastened his exit from trading, Duff acknowledges that he, too, could have found himself in the authorities' cross hairs.
"As an addict and alcoholic, the end of my road was different than those arrested by the FBI," said the 43-year-old Duff, who has not been charged with any wrongdoing. "But we were all in the same boat."
"The Buy Side" is one of several titles due out this summer pegged to the extensive government insider trading investigation, a list that includes "Circle of Friends" by Charles Gasparino, a broad examination of the crackdown, and "The Billionaire's Apprentice" by Anita Raghavan, an account of the case against the former Goldman director Rajat K. Gupta. While the greed and excesses of Wall Street may not be a surprise, Duff's book provides a window into the world of insider trading and the cowboy culture that blurs right from wrong.
At its heart, Duff's book is a Wall Street bildungsroman. The son of a mechanical engineer and homemaker, Duff grew up middle class in Kennebunk, Maine. After earning a journalism degree from Ohio University in 1994, he moved to New York, wanting to write for a living. Searching for connections, he called his rich uncle who worked in finance.
"He was on the trading desk and said he'd call me back," Duff said. "Twenty minutes later he called and said, 'You have 10 interviews.' I'm like, 'For what?' And he's like, 'Just say that you want to get into sales.'"
And just like that, Duff became a money man. He landed an entry-level post at his uncle's firm, Morgan Stanley, working for a team that managed money for wealthy families. From the get-go, he felt out of his depth in the office, but quickly discovered that he thrived during happy hour. He was socially adept, a party animal.
"I would never be able to stand out at my job," Duff wrote, recalling an epiphany while out drinking with his colleagues one night. "There I'm out-experienced, out-connected and out-degreed. But here, with a glass in hand, I have as good a chance as any to move and shake."
In 1999, on the cusp of the hedge fund boom, Duff moved to Galleon, which would become one of the world's most powerful hedge funds, eventually managing more than $7 billion. He had by then moved to the buy side, placing trades for Galleon's portfolio managers through brokerage firms, known as the sell side. "The buy side is the client," he wrote. "The sell side loves clients."
That his Galleon bosses lacked a moral compass is hardly shocking, but the breadth of wrongdoing that he claims to have witnessed is still startling. He said he not only saw instances of insider trading, but was also a willing participant in other illegal conduct like front-running (being tipped off about large orders by other customers, and trading ahead of them) and cherry-picking (directing the most profitable trades away from clients and into Galleon partners' personal accounts).
So why didn't Duff blow the whistle and put a stop to the criminal activity?
"You're young and trying to get ahead, and while something might not feel right, the results feel so good," Duff said. "I operated in a very gray area and made a lot of bad choices, but it wasn't on the level of what we're reading in the newspaper."
Duff was long gone from Galleon by 2006, the year federal authorities began investigating the fund. A half-decade earlier, he had left with one of Rajaratnam's top lieutenants to start Argus Partners, a $1.4 billion fund focused on health care stocks.
As Argus' head trader, Duff became a coveted contact for brokers seeking business from the fund. UBS organized a dinner for him, and 17 salesmen and traders signed up. Goldman Sachs thought enough of Duff to invite him to speak to its class of summer MBA students.
One of the interns asked, "If I'm your broker and I want to increase my business with your hedge fund, what's the best thing for me to do?"
"You can start by taking me to Vegas," Duff said.
Brokerage firms, clamoring for his commissions, showered him with gifts. One flew him on a private jet to the Super Bowl and got him seats on the 50-yard line. Another provided regular helicopter service to the Hamptons. There was a five-day trip to Costa Rica, fishing off a 70-foot boat during the day and zip-lining through the rain forest at night - all expenses paid.
The high-priced perks intoxicated Duff, and so did his seven-figure compensation. To underscore his obsession with money, an entire chapter in the book consists only of a rendering of a check in the amount of his 2003 total compensation - $1.9 million.
After receiving a large bonus, he called the Chase automated teller line just to listen repeatedly to a woman's voice announce his prodigious account balance. "I pressed the repeat button like five or six times in a row," he said.
But while reveling in his good fortune, he also suffered bouts of self-loathing and self-doubt. He questioned his career choice while rooting against the success of a cancer cure because of a bet in place against a drug stock.
There is a cringe-worthy scene in the book on his Manhattan roof deck, the morning after his raucous 34th birthday party, which featured a performance by the rappers Naughty by Nature. While smoking a joint, he asked himself, "Why do I feel so empty?"
If Duff partied his way to the top, he snorted his way to the bottom. When cocaine enters the picture, Duff's Wall Street confessional becomes an addiction memoir.
Drug-fueled benders starring pills, pornography and Patron Silver fill the second half of the book. His low point came when, in an effort to create an alibi for skipping work, he faked a mugging by rolling on the pavement and into a puddle until he was bleeding and bruised.
He left Argus and entered rehab. He found a job at another hedge fund, but relapsed and was forced back into rehab - and out of the business.
Duff has found redemption in writing and parenting. He sobered up more than three years ago. In 2011, he wrote "The Buy Side," which Crown Business bought for more than $250,000. He puts words on the page every day, and is working on a novel.
A devoted father, Duff moved to Long Island a few months ago to be near his 7-year-old daughter, who lives with her mother, a former live-in girlfriend of Duff's. He is trying to make a go of it as a writer, but if that doesn't work out, he has zero interest in the returning to a trading desk.
"A friend told me that if I write this book it will be the final nail in the coffin for my Wall Street career," he wrote. "At which point I said, 'Give me the hammer.'"
© 2013, The New York Times News Service