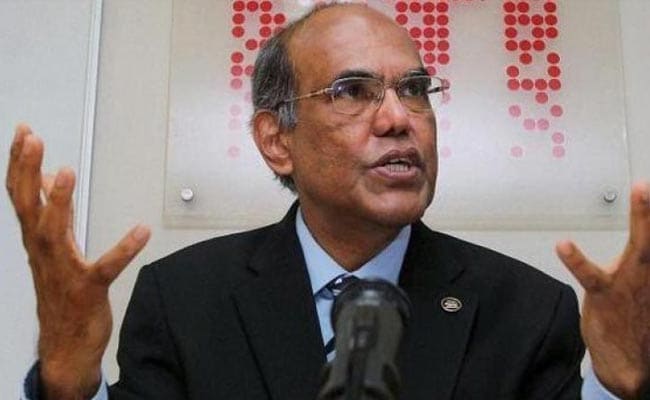 New Delhi:
Admitting that the "action or inaction" of RBI during his tenure could have been among reasons for the present bad loan crisis, former governor D Subbarao on Friday said he should have addressed those issues.
"NPA problem is getting bigger than any of us has thought it might be. Looking back at the benefit of hindsight, I believe I should have addressed the problem of NPA. Even as when I was writing my book, I was not very sure that I have anything to add to public discourse except to say that some of the causes of present (banking) crisis owe to action or inaction of RBI on my watch.
"...now looking back I should have addressed some of those issues," Mr Subbarao said at an event organised here.
Mr Subbarao's comments come days after outgoing RBI Governor Raghuram Rajan, who has mandated a "deep surgery" of banks' balance sheets to cleanse them of bad loans, said that the central bank should have done the clean-up job earlier.
"As with inflation, it was the duty of the central bank to press for bank clean-up earlier, when few among the public support the central bank's activism," Dr Rajan had said last month while addressing the 10th Statistics Day conference.
Dr Rajan had also said the lenders were initially reluctant to implement the clean-up which started from December 2015 with RBI identifying 150 largest accounts which were facing problems in servicing their debt obligations.
Following the clean-up order, the banks, led by state-run ones, reported close to 14 per cent or over Rs 8 trillion (Rs 8 lakh crore) of their assets as stressed as of March 2016, while NPAs alone crossed 7.6 per cent.
The Reserve Bank in June warned in the financial stability report that the NPA pains might worsen and that it would cross 8.5 per cent by March 2017 under its base case scenario.
Replying to a question, whether the world will again face crisis like collapse of Lehman Brothers, the former bureaucrat turned governor who recently wrote tell-all memoir 'Who Moved My Interest Rate' said, "I think Lehman crisis like moment is unlikely but another crisis is certainly is possible."
Mr Subbarao said his worldview changed after he shifted to RBI from Finance Ministry.
(This story has not been edited by NDTV staff and is auto-generated from a syndicated feed.)