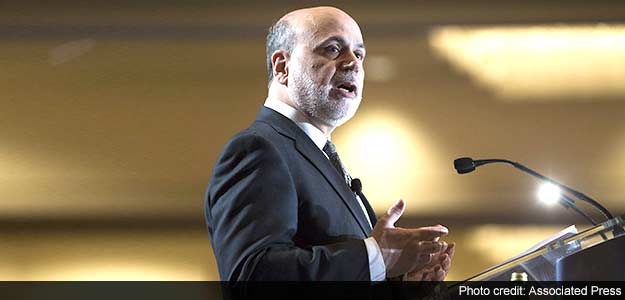 Imagine Reserve Bank Governor Raghuram Rajan being turned down for a home loan once he retires. Yet, that is exactly what happened to former Federal Reserve Chairman Ben Bernanke, who was till February 2014, the most powerful central banker in the world.
At a conference in Chicago on Thursday, Mr Bernanke said he was unsuccessful in refinancing his mortgage, Bloomberg News reported. Refinancing means replacing an existing loan with a new loan offering lower interest rate or more flexible tenure.
According to reports, Mr Bernanke wanted to refinance the mortgage on his Capitol Hill house, which he and his wife had bought for $839,000 (nearly Rs 5 crore at 1 dollar=60 rupee) in 2004.
Mr Bernanke, who has not taken up a regular job after two terms at the Federal Reserve, reportedly charges $250,000 (Rs 1.5 crore) for giving a speech and has also signed a book contract, which is expected to fetch him millions of dollars.
According to analysts, his application for refinance was rejected on grounds that he recently changed his job, a criteria that makes getting credit difficult even in India.
Mr Bernanke's revelation led to many hilarious tweets,
Binyamin Appelbaum@BCAppelbaum
Name: Ben Bernanke. Job? None. Other sources of income? I'm writing a book. And giving speeches. #DENIED
Money.com@MONEY
Don't feel bad if you can't refinance your mortgage: Even Ben Bernanke can't get a loan
zerohedge@zerohedge
Going forward instead of getting paid at a rate of $250,000 per hour, Ben Bernanke would prefer a mortgage refi LOI instead
The episode highlights the tight credit situation in the US property market, economists say. It also shows how rigid lending rules have become post the subprime mortgage crisis that triggered the global recession in 2008.
The subprime crisis resulted from banks extending mortgages to risky buyers on high interest rates. Large investment firms then bought such loans as mortgage-backed securities (MBSs). A number of such loans became delinquent starting in 2007, triggering bankruptcy across many banks in the US. The fallout was a major contributor to the global recession that followed.