Flipkart is offering a 10 per cent discount on purchase of items at its e-commerce portal using State Bank of India (SBI) cards. While the offer is applicable on both debit and credit cards by India's largest bank SBI, the customers can avail the discount on select items from product categories including fashion/lifestyle, appliances, furniture, healthcare and wearables, according to Flipkart's website - flipkart.com. The 10 per cent or up to Rs 4,500 discount comes at a time when the e-tailer is offering discounts under a limited-period sale. Called 'The Big Billion Days', the sale opened on September 20 and is available through September 24.
10 things to know about discount on SBI cards:
1. The offer is divided into three phases - Day 1, Day 2 and Day 3-5. The discount is applicable on purchases made on Flipkart's website - flipkart.com - and mobile app using SBI debit or credit cards, said Flipkart, India's largest e-commerce company.
2. Offer 1: The first day of the sale was between 12 am and 11:59 pm on September 20. Customers who mdae a minimum purchase of Rs. 1,500 with an SBI card first were eligible for the discount. The maximum discount that could have been availed per SBI card on Day 1 is Rs. 1,500. The Day 1 offer, according to Flipkart's website, was applicable on products from categories including fashion, home appliances and personal healthcare.
3. Offer 2: The Day 2 offer of the Big Billion Sale was valid between 12 am and 11:59 pm on September 21. The Day 2 discount was applicable on a minimum purchase of Rs.4,999 via SBI cards. The maximum discount offered per SBI card was Rs. 1,500 and the offer was valid on all categories of products (with some exclusions), Flipkart stated on its website.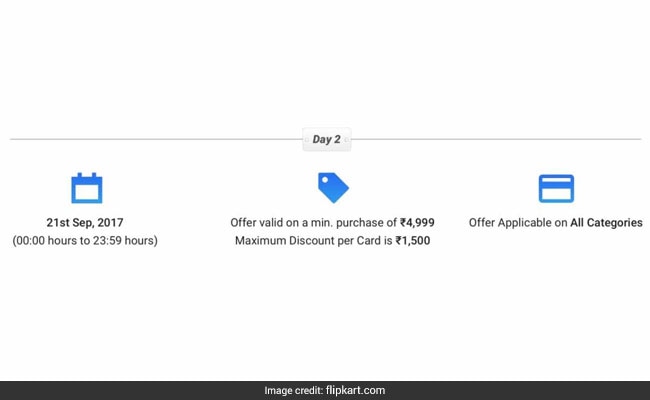 4. Offer 3: Customers buying products using SBI card on Day 3 , 4 and 5 of the Big Billion Days sale - between 12 am on September 22 and 11:59 pm on September 24 - are required to make a minimum purchase of Rs. 4,999 to avail the discount. The maximum discount allowed per card is Rs. 1,500 and is applicable across all categories (with some exclusions), Flipkart noted.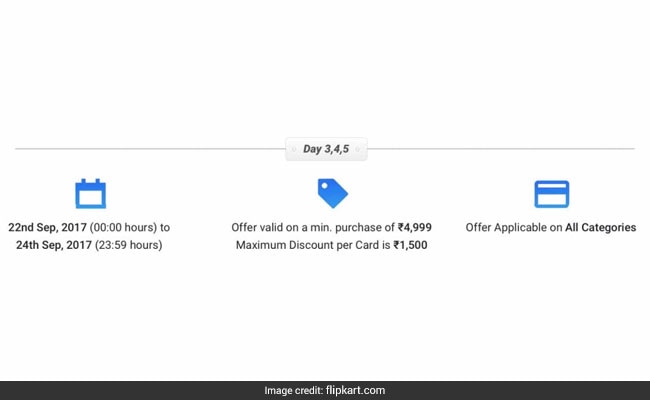 5. A customer can also avail this offer if he or she is paying through an eligible SBI Card via Flipkart's online payment app PhonePe, it said.
6. The offer is applicable on all SBI debit and credit card transactions, except the ones made using corporate and commercial cards, Flipkart added.
7. The offer is not applicable on payments made through SBI net banking.
8. In case you are paying through a Flipkart Gift Card/PhonePe Wallet partially, you will still get the offer. In this case, however, the offer will only apply on the amount paid through SBI debit/credit card against the eligible product(s). Also, this amount should be more than the minimum cart value defined above, for each of the offers 1, 2 and 3, according to Flipkart.
9. There is no limit on the number of transactions that you can make using the SBI card. However, you can avail a maximum discount of up to Rs. 4,500 only per card during the offer period.
10. The offer will reflect on product page for all eligible products, said Flipkart. However, the offers mentioned above will not apply on: Flipkart e-gift vouchers, Samsung tablets and select Samsung mobile phones.