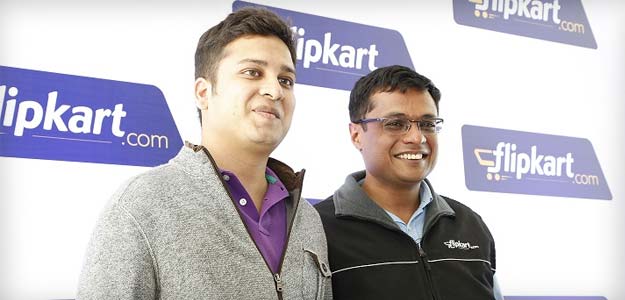 Flipkart, India's biggest e-commerce player, on Tuesday announced it has raised $1 billion or Rs 6,000 crore ($1 = Rs 60) in fresh funding, the biggest ever by an Indian internet company in a single round. And it is aiming much higher.
(See: A look at other milestones in Flipkart's history)

Young IITians Sachin Bansal and Binny Bansal, who set up Flipkart in 2007 with an investment of four lakh rupees, announced the new funding in Bangalore today, saying, "India can produce a 100 billion dollar company in five years - we want to be that company." (Watch video)

IT major TCS is India's highest valued firm with market capitalisation of nearly $83 billion, or Rs 5 lakh crore.
Flipkart is now expected to be valued at $5 billion (Rs 30,000 crore), according to some estimates. The company has seen a turbo-charged growth, hitting an annualised sales mark of $1 billion (Rs 6,000 crore) in 2014 - a year ahead of its target.


Co-founder Binny Bansal said that the company is not contemplating an initial public offer (IPO). "With this fund raising, our IPO plans have been put on the back burner," he told NDTV.
Flipkart said Singapore sovereign wealth fund GIC participated in the fundraising along with existing investors Tiger Global Management LLC and the South African media company NaspersLtd.
Flipkart co-founder Sachin Bansal said the funding would help the e-tailer to invest more into e-commerce ecosystem like logistics and payment systems. Sachin Bansal is also optimistic that India can produce dozens of billion dollar internet companies. "India's internet ecosystem is going to be one of the most vibrant in the world in the future with half a billion internet users," he told NDTV. (Watch video)
The company had earlier raised over $700 million (Rs 4,200 crore) in previous rounds. In May this year, Flipkart had raised $210 million (Rs 1,260 crore) in funding from a group of four investors led by internet-focused investment group DST Global.


Besides looking at fresh acquisitions, Flipkart could use the fresh funding for expanding its operations. Also in May this year, Flipkart acquired the country's biggest fashion portal Myntra for around $300 million (Rs 1,800 crore). "Acquisition will be an important part of our growth strategy," Binny Bansal told NDTV.
For Flipkart, the competition is also hotting up. Besides Amazon's expanding presence in India, world's largest retailer Wal-Mart too has begun online sales in the cash-and-carry segment in some cities. Reliance Retail, India's largest retailer by revenues, is also expected to significantly increase its online presence.
The Indian e-commerce market was worth $13 billion (Rs 78,000 crore) in 2013, with online travel accounting for over 70 per cent of consumer e-commerce transactions. Online sales of retail goods totaled $1.6 billion (Rs 9,600 crore) in 2013, according to research firm Forrester, and are expected to reach $76 billion (Rs 4.5 lakh crore) by 2021, Technopak said.
(With Agency Inputs)