Highlights
Flipkart launched four-day festive season sale on October 5
Over 4 lakh products eligible for no-cost EMI facility, says Flipkart
No-cost EMI scheme available on one transaction per credit card, it adds
Flipkart
is offering a no-cost EMI facility which enables customers to buy a product from the e-tailer at zero interest. "Flipkart has launched the No Cost EMI offer scheme to enable its users to buy any expensive product of their choice without burning a hole in their pocket," e-tailer Flipkart said on its website - flipkart.com. Flipkart, which kicked off a four-day
festive season sale
called Festive Dhamaka Days on October 5, said customers purchasing eligible products "will get an upfront discount equal to EMI interest cost charged by the bank, making it effectively no interest cost." More than 4 lakh products including mobile phones, laptops, electric appliances and furniture - are eligible for the no-cost EMI facility, according to Flipkart, India's largest e-commerce company.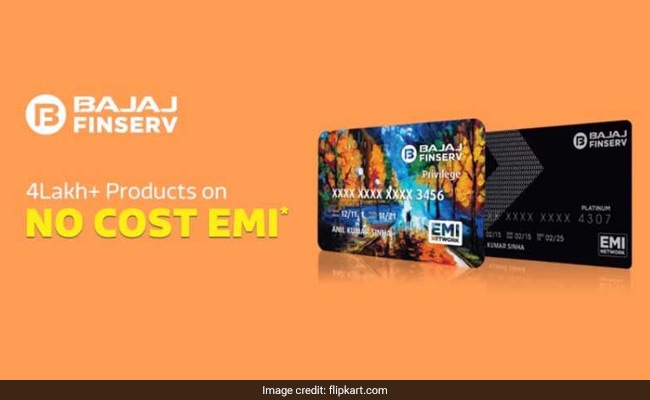 Here are 10 things to know about Flipkart's No-Cost EMI offer:
1. Customers can avail the no-cost EMI scheme on "only one transaction per credit card", Flipkart said.
2. Eligible products: Products eligible for the No-Cost EMI offer will display the 'No Cost EMI on Credit Card' option on payment page, Flipkart said.
3. The e-commerce major said it would not charge a processing fee for availing the EMI option. Banks may, however, charge a processing fee or cancellation charges as per the banks policies, Flipkart added.
4. The e-tailer further said its EMI scheme "is a special financial scheme that allows users to buy products under EMI, but not requiring them to pay any additional costs, including the interest and processing fee".
5. Customers buying products on Flipkart can avail the no-cost EMI offer on a single-cart purchase of eligible items amounting to Rs 3,000 and above, the e-tailer said on its website. "...payment through Bank Credit Card can be made for multiple products (eligible for offer) selected in a single cart provided, (i) the selected tenure for all such selected eligible products are same; and (ii) the total sale price of such selected eligible products (net of applicable discounts) in the cart is more than or equivalent to Rs. 3,000 (Three thousand only)," Flipkart said.
6. How it works: Explaining the no-cost feature, Flipkart said: "The discount under "No Cost EMI on credit card payment option is being offered exclusively by sellers and does not amount to EMI/interest waiver extended by the bank."
7. Without divulging a timeline for the offer, Flipkart said: "...this offer is available on select products sold by select sellers only. This offer is valid until stocks last or till the offer ends."
8. The final price is inclusive of the offer, according to Flipkart.
9. Customers are required to pay applicable EMI and interest on total value of the order at the time of payment to the bank in accordance with the terms applicable to the credit card.
10. Refund: "Any returns/cancellation will be as per Flipkart's return/cancellation policy. In case of any kind of return/refund in an EMI transaction, interest already billed in a particular transaction will not be refundable under any circumstances," Flipkart added.