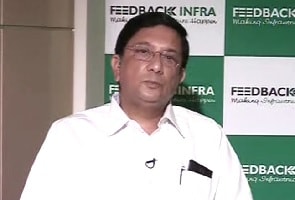 President Pranab Mukherjee on Monday outlined priorities of the newly elected government in his address to Parliament. Developing infrastructure is high on the government's agenda. The Modi government wants to build low cost airports to promote air connectivity to smaller towns, develop inland and coastal waterways as major transport route and modernise and revamp the country's moribund railway system.
Delays in getting road, rail and power projects approved and flaws in financing of infrastructure projects hit infra companies during the UPA rule. Now, there's hope that the new government will hasten decision making and simplify rules to create enabling environment for big infrastructure projects.
(Watch: Policy hopes from new government)
Here are the top five things that the government should do to incentivise corporates for infrastructure building:
1. According to Vinayak Chatterjee, chairman of Feedback Infra, the government should remove the minimum alternative tax or MAT to incentivize more and more companies to take up with infrastructure projects.
2. The government must allow commercial banks to lend for 25 years with 5 year resets (known as the 25/5 model) to the private sector for infrastructure projects, Mr Chatterjee adds. Currently, the private sector is not allowed loans for more than ten years, but infrastructure projects have long gestation periods, so companies find it difficult to service loans within the stipulated 10 years. Many infra loans become NPLs because of this. According to Mr Chatterjee, infra loans should be co-terminus with the projects to be successful.
3. According to Mr Chatterjee, infrastructure related special purpose vehicles (SPVs) should not be clubbed with a corporates' total loan exposure in banks. That's because SPV projects are financed on the basis of individual cash flow projections and are independent of a company's finance.
4. Kiran Mazumdar Shaw, chairman and managing director (CMD) of Biocon India, told NDTV that acquiring land for industrial use has become more difficult after the new Land Acquisition Act. The new law creates fear and uncertainty among investors to invest in industrial projects, she said.
5. Lots of industrial projects are given discretionary clearance because of lack of clarity in policy. It becomes difficult for corporates to understand what they need to do in order to get approval for a project. So easy to understand rules will allow corporates to follow them in order to get approval for their projects, Ms Shaw added.