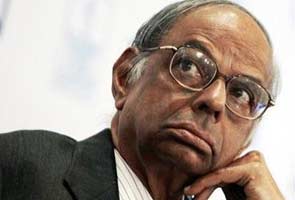 New Delhi:
Former chairman of the Prime Minister's Economic Advisory Council (PMEAC) C Rangarajan on Thursday said containing the fiscal deficit at 4.1 per cent of GDP during the ongoing fiscal year as proposed by the new NDA government will depend on its ability to control subsidies.
"The re-iteration of fiscal consolidation is welcome but whether he will be able to contain it (fiscal deficit) to 4.1 per cent is to be seen," Mr Rangarajan said.
"Much will depend on the subsidies ... if they are able to control the subsidies. Certainly, there are certain incentives for savings."
Outlining the roadmap for fiscal consolidation, Finance Minister Arun Jaitley earlier in the day said the government will retain the fiscal deficit target for 2014-15 at 4.1 per cent of GDP and reduce it further to 3 per cent by 2016-17.
Presenting his maiden Budget, Mr Jaitley said the prevailing economic situation presents a great challenge and there is a need to introduce fiscal prudence that will lead to fiscal consolidation and discipline.