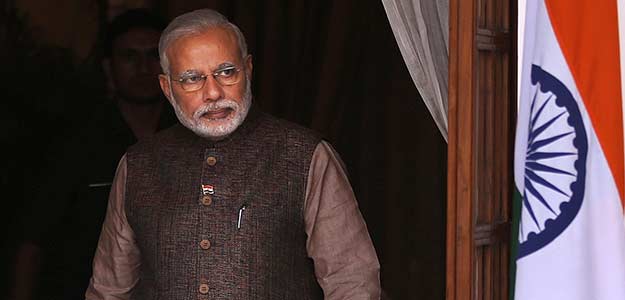 New Delhi:
Prime Minister Narendra Modi faces the first major test of his reform credentials on Thursday, when his fresh-faced government presents its maiden budget amid early doubts about his willingness to make unpopular decisions. (Live Blog)
Prime Minister Modi, 63, won a landslide general election victory in May with a pledge to boost growth and create jobs for the 1 million people who enter India's workforce every month.
He has since warned of the "bitter medicine" needed to nurse the economy back to health from high inflation and the worst slowdown since free-market reforms in the early 1990s unleashed an era of rapid growth.
Finance Minister Arun Jaitley's promises of bold budget decisions and broadsides against the "mindless populism" of his left-of-centre predecessors have proved a hit with investors, helping the benchmark BSE stock index to a record high last week.
Mr Jaitley is due to address parliament at 11 a.m. (0530 GMT).
But, with an eye on state elections later this year, PM Modi has faltered in administering the medicine he has spoken of, delaying a decision to raise the price of natural gas and partially reversing a train fare hike after protests in Mumbai.
The government has tried to keep rural voters sweet by extending a temporary subsidy for sugar mills, benefiting farmers in Maharashtra, where Mr Modi's BJP hopes to consolidate its strength in elections later this year.
"The budget is a key test of their credibility, and this evidence that they are moving back and dithering on their decisions, and in a sense playing politics, is a sign of more to come," said Nida Ali, India economist at Oxford Economics.
To be sure, the government has started a shake-up of politically sensitive labour laws, and is expected to roll out plans for a new services tax that would unify the states into a common market for the first time.
Even the partial train fare hike was bolder than any measures by the last government to fix the tattered finances of the world's fourth largest rail network.
But some investors were disappointed by a railway budget delivered on Tuesday that was long on promises of opportunities for private investors but short on details of how to make the sector attractive for such capital.
The mood was reflected in losses on the stock market after the railway minister's speech to parliament.
Managing Expectations
Foreign banks watching India have played up expectations of strong action on tax reform, privatisation and subsidy cuts after the young government's drum beats in recent weeks.
"We want Mr. Modi and his team to make a structural change by presenting a budget crowned with quality actions," Spain's BBVA Research said in a research note.
Tushar Poddar, chief India economist at Goldman Sachs, wrote this week that he expected a roadmap for a Goods and Services Tax, greater access for foreign investors to the insurance and defence industries and incentives for manufacturing.
A finance ministry report on Wednesday laid out the government's vision for a sustainable reduction in the fiscal deficit through a lower food and fertilizer subsidies and broadening India's tiny tax base.
The report's tone increased speculation that Mr Jaitley will give a higher, more realistic fiscal deficit target for this fiscal year than the 4.1 per cent of gross domestic product set by the previous government.
But political realities such as the looming elections could make the government reluctant to act too quickly despite commanding the first outright parliamentary majority for any Indian political party in 30 years.
"It is but natural for the new government to move ahead gradually so as to avoid policy-induced distortions," said Rupa Rege Nitsure, chief economist at Bank of Baroda in Mumbai.
Many of India's economic ills are structural and will take time to fix regardless of the government's appetite or strength. Food inflation, energy shortages and weak institutions will slow the pace of reform.
"At the end of the day they are not a silver bullet, they are not going to turn the economy around in a month's time," Oxford Economics' Ali said.
Copyright: Thomson Reuters 2014