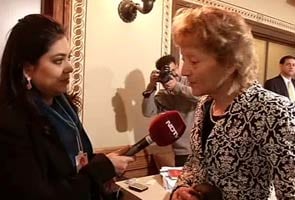 India and Switzerland have taken a "few good steps" in their talks on exchanging information on black money account holders, Swiss Minister of Finance Eveline Widmer Schlumpf told NDTV in an exclusive interview right after her meeting with Finance Minister Arun Jaitley. In the meeting that lasted over 35 minutes, India expressed its concerns on the slow progress in getting information from Switzerland.

"We have our legal basis and we need to respect that," the Swiss minister said, adding that she is "confident that India and Switzerland can go to a good end in their negotiations". (Watch)

The Swiss minister has also assured her Indian counterpart that the country is moving towards an automatic exchange of information and that they are hoping to introduce the new model in 2017.

"At that time we will have good legal basis to answer more requests than we can at the moment," she told NDTV.


When asked about his interaction with Swiss ministers, Mr Jaitley told NDTV, "In today's meeting, we have gained a better understanding of parameters of independent evidence that will enable us to get information from Switzerland. If India has independent material available, their attitude will be very positive."
He also said Swiss authorities are clear about their position on the matter of information exchange. "Swiss has a clear position. They will not give information on stolen data. They don't recognise it," Mr Jaitley said.
"Now India's alternate position but not preferred position is to provide independent evidence. On the basis of detailed information, they (Swiss ministers) have said they will do it expeditiously."