Highlights
41% of Bangalore's IT workers are learning new skills
Techies are signing up for online courses to prepare for future jobs
Mid-level IT employees were most pro-active in reskilling themselves
As businesses across the world implement automation and digitization to drive greater efficiency, IT sector professionals fear the recent advances in technology may make their roles obsolete. To stay relevant, more and more techies are signing up for online certifications on new technologies and programming languages. A survey of 7,000 IT employees by
Simplilearn
, an online education portal, revealed that over 50 per cent of IT professionals with work experience of 4–10 years have invested in courses and training programs to help them build new skills.
As reports of job cuts in the IT industry cause anxiety among working professionals and job seekers, Bangalore, India's IT hub has led other major cities in numbers of people reskilling themselves. According to the survey, 41 per cent of Bangalore's IT professionals were working on acquiring on new skills in 2017, ahead of Delhi-NCR which came in at 25 per cent and Mumbai at 19 per cent.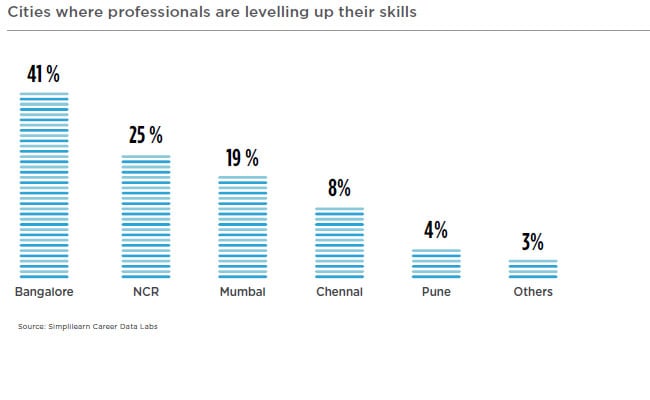 The survey also revealed that while engineers prefer to build skills in Big Data, mid-level and senior management professionals are eyeing project management certifications.
Mid-level IT employees with four to ten years of experience were most proactive in gaining new skills according to the survey, with 57 per cent of them going for new education to prepare for job roles of the future. Meanwhile 30 per cent of the IT professionals with 8-15 years of experience were eager on earning new qualifications, the survey said.