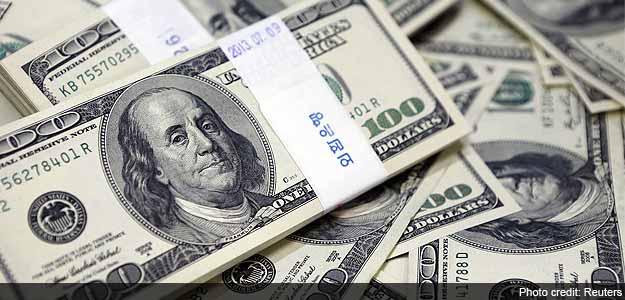 The rupee could turn volatile due to possible dollar shortages when NRIs redeem a large chunk of foreign currency non-resident or FCNR (B) deposits held in Indian banks, economists say.
FCNR (B) deposits are meant for NRIs and these are accepted by Indian banks in permitted foreign currencies. In 2013, when the rupee hit an all-time low of 68.85 against the dollar, the Reserve Bank of India (RBI) asked commercial banks to raise FCNR (B) deposits to shore up the country's foreign reserves. A big chunk of these deposits will come up for redemption from September.
In 2013, the RBI did a buy/sell arrangement with banks against these deposits, taking dollars and providing rupees to banks, with a promise to provide the same amount of dollars and take back rupees.
RBI Governor Raghuram Rajan on Tuesday said the dollar outflows from these deposits could be around $20 billion. Dr Rajan said the central bank may step in to supply dollars in case of extreme volatility once FCNRs mature but warned markets not to be "complacent".
"We may supply dollars in case of extreme volatility. But no one should take this for granted. But for sure, we have plenty of dollar to supply if necessary," Dr Rajan said.
Here is how the currency markets and banking system could be impacted due to redemption of FCNR (B) deposits:
Rupee volatility, dollar shortage:
Dr Rajan said the RBI has covered for the outflows taking positions in the forward markets. But brokerage Religare says there is a concern that some counterparties (exporters) will not be able to deliver dollars. "This could lead to a temporary shortage of dollars, leading to volatility in the currency markets," the brokerage added.
Even Dr Rajan highlighted this risk. "Some counter-parties we have contracts with are apprehensive that they may not be able to deliver easily on the dollars we are owed," he said.
Will rupee hit fresh all-time low?
Some economists don't rule out the possibility. Dr Soumya Kanti Ghosh, chief economic adviser at State Bank of India (SBI), says that if global growth and Indian exports continue to be weak, the outlook of rupee will be negative. Indian exports have fallen for a 17th month in a row (in April) amid tepid global growth. Whether the rupee slips to its lowest level will also depend on global conditions at that point, Dr Ghosh said. Traders see a higher possibility of the US Federal Reserve waiting till September to raise rates.
Liquidity squeeze:
StanChart also sees a risk of the liquidity shortage in the financial system if exporters cancel/roll-over committed dollar delivery. "While RBI has entered into forward purchases to minimise the impact of these outflows upon maturity (in September-December 2016), there are concerns about a dollar shortage if exporters cancel/roll-over committed dollar delivery."
In the event of such a dollar mismatch, StanChart says, the RBI may have to draw down its forex reserves to partially meet redemptions. This may also temporarily mop up rupee liquidity from the banking system, the StanChart added.
SBI also said in a report that "maturing of FCNR (B) deposits this year may have a significant impact on liquidity conditions".
Impact on rate cuts by banks:
Research house Crisil says that the tight liquidity conditions due to outflows from these deposits could slow down the transmission of RBI rate cuts by banks during the second half of the year. This could be bad news for borrowers who are hoping that banks will pass on benefits of the RBI's earlier rate cuts to them in the form of lower lending rates. "The maturity of FCNR deposits could result in outflows of close to $20bn ($20 billion) and impact the liquidity conditions of banks temporarily, slowing down the transmission process in early H2 FY17," said Crisil.
CRR cut or sovereign dollar bond issue?
Analysts don't rule out these possibilities in case of a potential dollar shortage. "Government may issue a sovereign dollar bond to make up for the potential dollar shortage. RBI could also provide some relaxations in cash reserve ratio or CRR at such time," SBI said.
CRR is a certain percentage of the total deposits banks have to maintain with the RBI, which has maintained it at 4 per cent for a long time. A CRR cut helps immediate release of liquidity into the banking system.