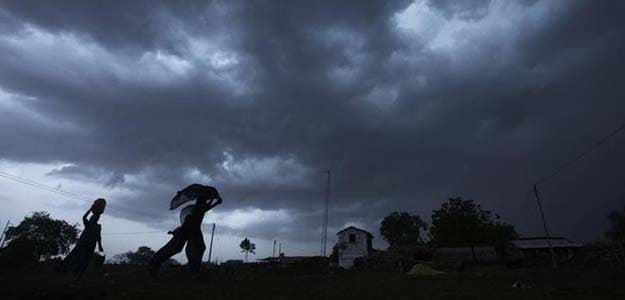 Lasalgaon, Maharashtra:
Pramod Patil's 40-acre field in Lasalgaon usually turns green around now with germinated soybean and corn seeds, but this year he has yet to begin planting because of scanty monsoon rains in Maharashtra.
Like 27-year old Patil, millions of Indian farmers are hoping rains will strengthen in the next two weeks so they can grow rice, soybean, cotton, pulses and some vegetables - summer crops that account for 7.5 per cent of the country's economy.
"Every day we look at the sky hoping to see some black rainfall clouds, but the sky is clear," says Patil, his fingers pointing skywards. "Soybean and onion prices are attractive, but what's the use if I fail to cultivate crops this year?"
A poor monsoon season cuts exports, stokes food inflation and leads to lower demand for industries ranging from automobiles to consumer goods, while even a slow start can delay exports of some crops and increase the need for imports.
Rainfall in June, the first month of the four-month monsoon season, was 43 per cent below average across India, but more than 90 per cent down in some states like Maharashtra and neighbouring Gujarat, top producers of cotton, soybean and sugar cane.
One of the world's biggest producers and consumers of rice, corn, cooking oil, sugar and cotton, India relies heavily on the annual monsoon rains as nearly half of its farmland is rain-fed.
A delay in sowing will hit soymeal and cotton exports that normally pick up from October, and could force India to increase imports of edible oils, said Harish Galipelli, vice-president research at Inditrade Derivatives and Commodities.
The poor start to the monsoon in India's western region could affect production because only 35 per cent of the area sown to crops is irrigated, Morgan Stanley Research said in a note.
India's summer-sown crops covered just 13.1 million hectares (32.4 million acres) as on June 27, the farm ministry said, just over half of the level a year earlier.
Drought Pockets
Rains are forecast to gain momentum over most of the country early this month, but the farm minister said on Tuesday that a "drought-like situation might prevail in some pockets" of western India.
A prolonged dry spell could reduce crop yields and cut returns for farmers, many of whom take on debt to buy seeds and fertilizers. This could force some farmers to skip either a summer-sown or winter-sown crop.
"Normally we harvest soybeans in October and then cultivate onions in November. We'll have to skip soybeans if we fail to get rainfall in the next two weeks," said Patil, speaking as his two permanent labourers slept under a tree due to a lack of work.
For farmer Satish Khairnar, it is a case of playing safe. He plans to minimise sowing in the fear of wasting money on seeds and fertilizer should drought take hold.
Such caution has already affected Vijay Nikam, who has been selling seeds and pesticides to farmers in Khairnar's village for more than two decades, but whose sales are down 90 per cent on last year.
"I've sown cotton on eight acres (3 hectares), but it will wilt if rainfall is delayed by one more week," said Abhiman Patil, a 62-year-old farmer in Maharashtra who has been irrigating his farmland using water from wells that are fast drying up.
"The next eight days will decide whether I am going to recover my investment or I am going to make losses. Let's pray there will be some showers."