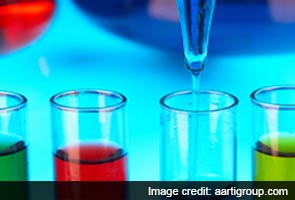 Falling oil prices are "very good" for the company and the industry at large, Rajendra V Gogri, chairman and managing director, Aarti Industries told NDTV.
"It is very good for us that crude oil price is coming down, reducing the benzene price also and the direct benefit would be reducing the working capital requirement for us and also the lower benzene price should help in overall increase in demand also. So this crude oil decrease will definitely benefit our industry," he said. (Watch video)
Benzene, derived from crude oil is a key raw material for Aarti Industries that manufactures products like agrochemicals and polymers. Aarti buys benzene from Reliance Industries.
Oil fell 5 per cent to its lowest in nearly six years on Monday, extending the second-deepest rout on record, after Goldman Sachs warned that prices would fall further and Gulf oil producers showed no sign of cutting output.
Brent fell $2.68, or more than 5 per cent, to settle at $47.43 a barrel, its third-largest one-day decline since 2011 and its lowest close since March 2009. The decline was the 10th in the past 12 sessions.
"Margins are volume based so substantial portion of the benefit goes to the customers in general. But depending on the product some places we are able to keep part of the margin with us," Aarti Industries said.
The company exports to over 60 countries and exports make up for more than 50 per cent of Aarti's revenues.
German company BASF, which calls itself the largest chemical producer in the world is Aarti Industries' biggest client, Mr Gogri said. Other prominent clients include Germany's Bayer and French-American chemical company DuPont.
The company has identified certain areas of growth and plans to invest in them going forward.
"Making investment where some of the places we are planning to get more market share and get more share of the growing demand."
Agrochemical and polymer are on a high growth trajectory globally, and are the main areas of growth for the company, it said.
The stock was up 4.26 per cent at 2:03 pm, outperforming the broader Nifty and the Sensex.
(With Reuters inputs)