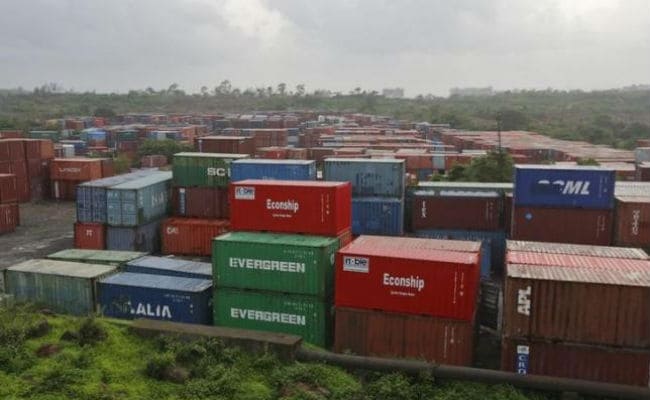 New Delhi:
After rising for the first time in 18 months in June, exports shrank again in July, contracting 6.84 per cent due to decline in shipments of engineering goods and petroleum products.
Gold imports, which till recently was a matter of concern for the government, more than halved to $1.08 billion in the month.
Merchandise exports totalled $21.69 billion in July as against $23.28 billion in the same month last year.
Declining exports as well as in imports narrowed the trade deficit in July to $7.76 billion as against $13.09 billion in the year-ago period.
Exports have been falling since December 2014 due to weak global demand and slide in oil prices.
As per the data released by Commerce and Industry Ministry, imports in July were at $29.45 billion, down 19.03 per cent from $36.37 billion in the same month a year ago.
Gold imports dropped over 64 per cent to $1.08 billion, from $2.97 billion in July 2015.
Import of the precious metal has been declining sharply due to measures like higher customs duty and gold schemes.
Gold used to be the second most imported item in the country after petroleum.
Government data revealed that imports of petroleum, crude and related products were down 28 per cent in July, while that of coal, coke and briquettes shrunk by about 7 per cent.
In value terms, imports of fertilisers were down by 25 per cent at $708 million in July.
Cumulative value of merchandise exports for April-July 2016-17 was $87 billion as against $90.27 billion last year, a decline of 3.62 per cent.
Overall imports in the four month period of the fiscal stood at $113.99 billion, down 16.33 per cent year-on-year.
Trade deficit for April-July was estimated at $27 billion, lower than $46 billion in the corresponding period last fiscal.
The decline in exports reflects the contraction in global trade and leading exporting countries like China also witnessed similar declines, FIEO President S C Ralhan said.
"The decline in exports of engineering goods, leather and textiles is a major concern as these are employment intensive sectors of exports," he said.
The net export of services during April-June was $16.2 billion, marginally lower than $16.49 billion recorded in the corresponding period last year.
Taking merchandise and services together, overall trade deficit for April-July is estimated at $10.8 billion, which is 63.38 per cent lower from $29.5 billion year-on-year.
(This story has not been edited by NDTV staff and is auto-generated from a syndicated feed.)