Highlights
Salary hikes in 2017 likely to drop up to 1%, Aon Hewitt survey finds out
Average of 9.5% increase seen in salaries across industries
Double-digit salary hike seen in life sciences, professional services
There is bad news for private sector employees this year. According to a survey based on more than 1,000 companies, the salary hikes in 2017 are likely to drop up to 1 per cent. The survey done by Aon Hewitt, projects an average of 9.5% increase in salaries across industries. While it's a marginal decrease from the 2016 spend, the survey says, it is due to the impact of Brexit, recent changes in the US government and the 'much talked about demonetization' in India.
Anandorup Ghose, Partner at Aon Hewitt India, said "Political changes and economic headwinds have had an impact on business performance. However, the trend this year reflects a gradual slowing of pay increases and higher emphasis on productivity and performance - quite literally a 'graying' of salary budgets for India"
Sectors like Life Sciences, Professional Services, Chemicals, Entertainment Media, Automotive and Consumer Products will continue to project a double-digit salary increase for 2017. The lowest hikes would be witnessed in financial institutions, transportation and cement sectors.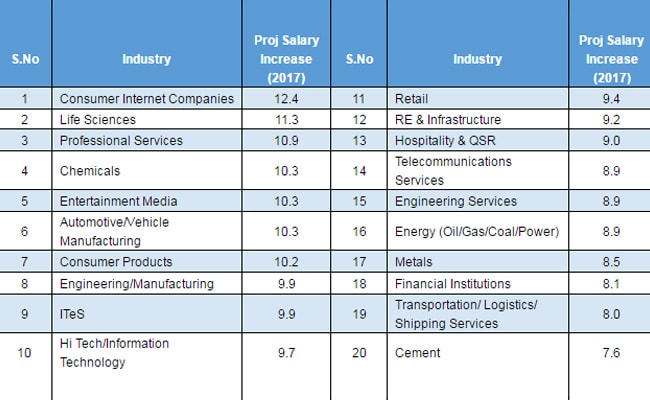 Increasing Focus on Talent and Merit
Due to tight budgets, the companies will try to ensur that their 'top talent' is identified and remunerated accordingly. The Research by Aon shows that the segment of population that features as 'high performers' have fallen to 7.5%, the lowest number recorded in the 21 years of the Salary Increase Survey in India. Consequently, the multiplier that India Inc. is offering these employees continues to be high. At 1.8 times, India is one of the highest differentiators across Asia.
Speaking on psychologies of companies surveyed, Mr Ghose said " Companies are looking at a combination of things. Over the last 10 years, we are seeing a gradual decrease in the pay increases offered."
"Companies are looking at "long-run requirement to manage compensation costs...and then there's hope overall uncertainty on account of last quarter not having been good, uncertainty about what demonetisation will mean in the long run," he added.
Attrition rate at its lowest for five years
The survey also pointed out that the attrition rate in India in 2016 was similar to 2015 at 16.4%. While attrition was contained at a broader level, key talent attrition increased from 7.3% in 2015 to 12.3% in 2016. For those switching their jobs, inequity of pay remains a concern, but the key reasons cited by employees for voluntary attrition are role stagnation and limited growth opportunities.