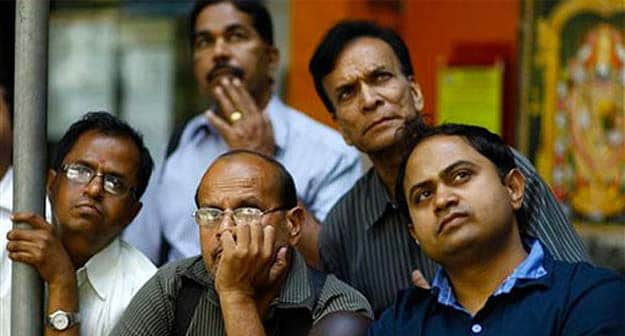 Indian stock markets are on a roll sensing a win for the Narendra Modi-led National Democratic Alliance in elections concluded on Monday. The Sensex gained 1,200 points in just two sessions since Friday and today it has hit a third successive record high after exit polls projected a win for Mr Modi.
The bullish mood on Dalal Street has been built on the BJP being seen by markets as more investor- and business-friendly and there are hopes that a change in government will lead to faster reforms and robust economic growth.
However, history suggests that predicating optimism of a favourable electoral outcome on exit polls alone, is tricky business.
In 2004, both opinion and exit polls predicate an NDA win, but results announced on May 17 threw up a convincing win for Congress-led UPA. On that day, the BSE Sensex crashed 842 points and trading was halted twice. At close, the Sensex dropped by 565 points to end at 4,505.
In 2009, most opinion and exit polls predicted a hung parliament, but the Congress emerged as the biggest party with over 200 seats and formed a stable government on its own.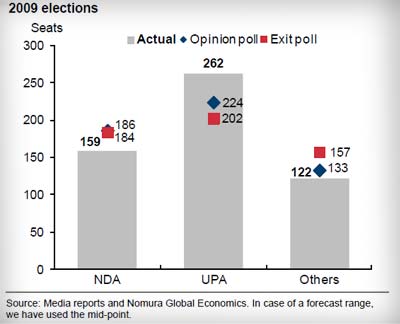 After the exit polls yesterday, market expert TS Harihar tweeted, "Mistaking an #exitpoll for actual verdict is like mistaking an analyst recommendation for stock returns."
This time, the BJP-led NDA is projected to win between 249 and 340 seats, according to six exit polls. The wide variation in numbers suggests that exit polls could go wrong this time as well, analysts say.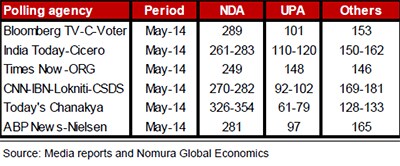 "The wide range between the lowest and highest forecasts (approximately 90 seats) confirms, in our view, as proved to be the case in 2004 and 2009, that the exit polls should be treated with some caution," Nomura said.
According to Credit Suisse, Monday's exit polls reveal a "range of high uncertainty." The investment bank points out that while national totals are within a relatively narrow range, the state numbers that add up to those totals vary "widely."
"This suggests high measurement error margins," Credit Suisse says.
However, there are other analysts who are confident that this time around things will be different. Rahul Arora, chief executive officer of Nirmal Bang Securities interprets the national voter turnout at 66.38 per cent, the highest ever for India, as logically implying an anti-incumbency vote which will assist the NDA in its overall tally.
Other analysts point to the large difference in vote share that exit polls have indicated between the NDA and UPA to buttress the point that the BJP is home and dry.
In any case, retail investors should be prepared for the worst. That's because any results that show BJP falling short of a majority could cause shares to plunge 8 to 10 per cent in one day, and up to 20 per cent in the aftermath, analysts say.