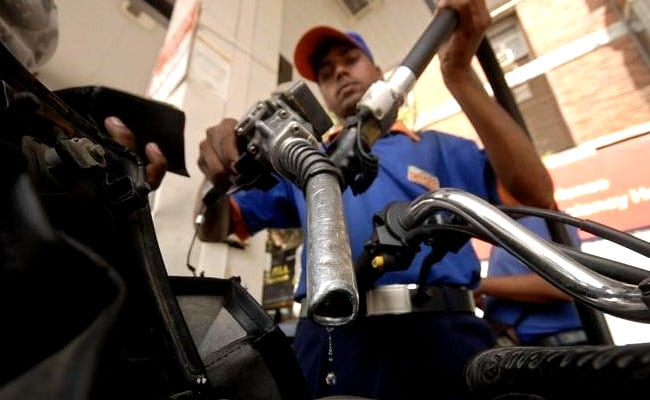 New Delhi:
With the strategic petroleum sector still outside the GST regime, petrol and diesel were among the few other items that figured among the part on indirect taxes in the last full budget just presented by Finance Minster Arun Jaitley before the 2019 general elections.
Even as the Union Budget 2018-19 proposed levy of road and infrastructure cess of Rs 8 per litre on petrol and diesel, while abolishing the additional excise duty of Rs 6, global prices pushed petrol to a nearly three-and-a-half-year high of Rs 73.05 per litre in Delhi on Thursday.
The basic excise duty on unbranded petrol was slashed by Rs 2 from Rs 6.48 per litre and on branded petrol from Rs 7.66 per litre.
Similarly on unbranded diesel, additional excise duty was brought down from Rs 8.33 per litre to Rs 6.33 per litre and on branded diesel from Rs 10.69 per litre to Rs 8.69 per litre.
Finance Secretary Hasmukh Adia told a post-Budget media briefing that the changes would not affect the customer.
"Excise on petrol and diesel has been reduced by Rs 2, which has been converted to cess. Consequently, there is no change in price for the consumer," he said.
Expectedly, governed by the dynamic daily pricing system adopted by state-run oil marketers last year, petrol prices on Friday rose by a marginal 5 paise per litre in Delhi, Kolkata, Mumbai and Chennai, while diesel prices in these key metros were left unchanged.
With Friday's hike, petrol prices have been increased by Rs 3.07-3.29 per litre in the four metros so far this year, while diesel rates raised by Rs 4.47-5 per litre, according to Indian Oil Corporation.
Petrol costs Rs 73.1 per litre in Delhi, Rs 75.79 per litre in Kolkata, Rs 80.96 per litre in Mumbai and Rs 75.82 per litre in Chennai.
Diesel prices on Friday were at Rs 64.11 per litre in Delhi, Rs 66.78 per litre in Kolkata, Rs 68.27 per litre in Mumbai and Rs 67.62 per litre in Chennai.
Petrol prices reached landmark levels on Thursday in key metros Kolkata, Mumbai and Chennai at Rs 75.74, Rs 80.91, and Rs 75.77 per litre respectively.
Asked about the cut in excise duty and imposition of road cess in the Budget, analysts said it was the global crude oil prices which were driving petrol and diesel rates.
"That depends on the crude oil price outlook. Crude oil prices have been increasing for the last six months after 2-3 years of lull. So, given that it is free pricing now, any projection on prices of petrol and diesel will be difficult," said Raju Kumar, tax partner, EY.
"Finance Minister Arun Jaitly's populist measure of reducing basic excise duty on fuel comes at a time when petrol prices have hit Rs 80 across major cities in India. For the past few years, the excise on the commodity has always remained steep despite crude prices almost halving since early 2016," said Saurabh Bhagotra, Solicitor at Zaiwalla & Co.
(Except for the headline, this story has not been edited by NDTV staff and is published from a syndicated feed.)