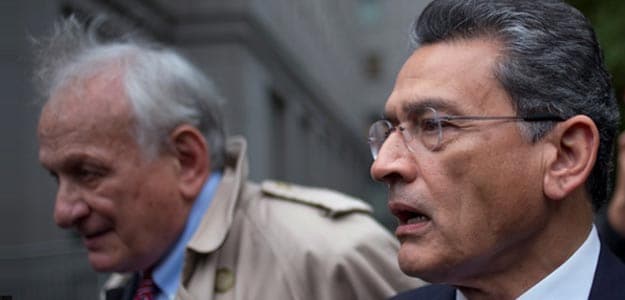 Former Goldman Sachs Group Inc director Rajat Gupta failed to persuade a US judge to overturn his insider trading conviction for passing tips about the bank's financial results and a crucial investment from Warren Buffett's Berkshire Hathaway Inc.
US District Judge Jed Rakoff in Manhattan on Thursday rejected Gupta's argument that his tips to Galleon Group hedge fund founder Raj Rajaratnam were not illegal because his longtime friend gave him nothing valuable in return.

Gupta, 66, who is also a former McKinsey & Co global managing director, is serving a two-year prison term, and eligible for release next March.

Evidence against him included a Sept. 23, 2008 phone call during the financial crisis, minutes before Goldman announced a $5 billion investment from Berkshire, in which Rajaratnam told a trader that "something good might happen to Goldman," based on a source whom prosecutors said was Gupta.

Gary Naftalis, a lawyer for Gupta, was not immediately available for comment.

In seeking to void his conviction, Gupta cited a Dec. 10 ruling by the 2nd US Circuit Court of Appeals that overturned the insider trading convictions of hedge fund managers Todd Newman and Anthony Chiasson.

That court said insider trading required knowledge that insiders who passed confidential tips did so in exchange for personal benefits "of some consequence."

It also said that if close friends are involved, there must be evidence of an exchange that is "objective, consequential, and represents at least a potential gain of a pecuniary or similarly valuable nature."

Rakoff concluded that the Newman ruling addresses the liability of tippees like Rajaratnam, not tippers like Gupta.

And even if it did cover tippers, Rakoff said the necessary benefit existed because Gupta and Voyager Capital Partners Ltd, in which Gupta held a $10 million stake, invested in Galleon and stood to benefit if Rajaratnam traded successfully.

"It is thus clear even on Gupta's own reading of Newman, let alone on the reading this court gives it, that Gupta cannot satisfy any part of his claim," Rakoff wrote.

Rajaratnam also invoked the Newman ruling in trying to throw out a $92.8 million penalty in a related U.S. Securities and Exchange Commission civil case. He is also trying to void part of his conviction and shorten his 11-year prison term.

The US Department of Justice is weighing whether to appeal the Newman ruling to the US Supreme Court.
© Thomson Reuters 2015