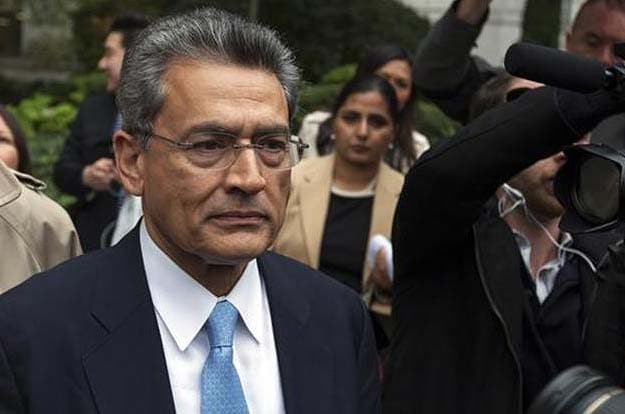 New York:
Former Goldman Sachs Group Inc director Rajat Gupta will begin serving a two-year prison term on June 17
after a US federal appeals court rejected his bid to stay free while he appeals his insider trading conviction.
In a brief order on Friday, the 2nd US Circuit Court of Appeals in New York rejected a request by Mr Gupta, a former global managing director of consulting firm McKinsey & Co, to delay his surrender and remain free on bail.
Mr Gupta, 65, was convicted in June 2012 of feeding tips from Goldman board meetings to longtime friend Raj Rajaratnam, founder of the Galleon Group hedge fund firm.
Evidence included a September 2008 phone call, just before Goldman announced a $5 billion investment from Warren Buffett's Berkshire Hathaway Inc, in which Mr Rajaratnam was heard telling a trader that he learned from a source, who prosecutors said was Mr Gupta, that "something good might happen to Goldman".
It also included an October 2008 conversation in which Mr Rajaratnam told a colleague that a Goldman director had tipped him that the bank would post a quarterly loss.
A three-judge 2nd Circuit panel rejected Mr Gupta's appeal on March 25. Mr Gupta sought to stay out of prison while the full 2nd Circuit Court, and perhaps the US Supreme Court, reviews his case.
Mr Rajaratnam is appealing his conviction to the Supreme Court. He is serving an 11-year prison term.
Seth Waxman and Gary Naftalis, two of Mr Gupta's lawyers, were not immediately available for comment on Friday.
His lawyers have argued that Gupta's conviction was tainted by US District Judge Jed Rakoff's decision to admit wiretap evidence at trial, and the judge's refusal to tell jurors that Mr Gupta's good character could raise a reasonable doubt of guilt. The lawyers also said Mr Gupta is neither a flight risk nor a danger to the community.
Mr Gupta is the highest-ranking corporate official and Mr Rajaratnam the highest-ranking portfolio manager convicted in a broad insider trading probe unveiled by federal prosecutors in October 2009. Roughly 80 people have been convicted or pleaded guilty.
Mr Rakoff has agreed to recommend that Mr Gupta be assigned to a medium-security prison in Otisville, New York, about 70 miles (113 km) northwest of New York City.
Copyright @ Thomson Reuters 2013