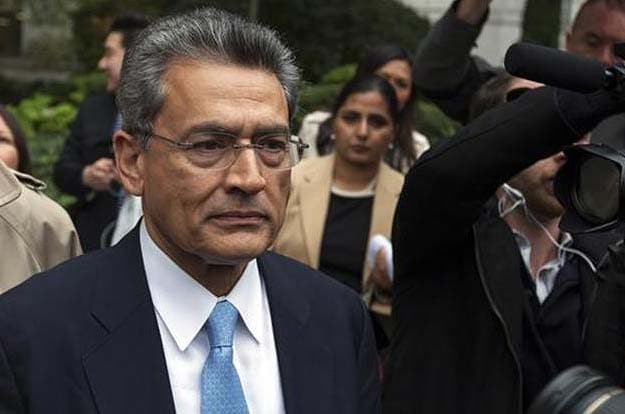 New York:
Former Goldman Sachs Group Inc director Rajat Gupta on Tuesday lost his challenge to a $13.9 million civil penalty and a permanent ban from acting as an officer for a public company, the same day he was scheduled to begin serving a two-year prison sentence.

In a brief order, the 2nd US Circuit Court of Appeals rejected Mr Gupta's claim that the penalty and ban were excessive.

A federal jury convicted the 65-year-old in June 2012 of passing confidential information he learned from Goldman board meetings to Raj Rajaratnam, the former billionaire and founder of the Galleon Group hedge fund.


Mr Rajaratnam is serving an 11-year prison sentence. His younger brother, Rengan, a former Galleon portfolio manager, went on trial on Tuesday in New York on charges that he engaged in an insider trading scheme with his brother.
Mr Gupta was sentenced to a two-year prison sentence as well as $6 million in restitution to Goldman and a $5 million fine as a result of his criminal conviction.
The US Securities and Exchange Commission (SEC) also filed a parallel civil action against Mr Gupta, leading to a $13.9 million penalty and a lifetime ban from acting as a public company's officer. Mr Gupta had appealed the civil sanctions as unwarranted.
Mr Gupta's attorney, Seth Waxman, did not immediately respond to a request for comment on Tuesday. An SEC spokesman declined to comment.
US District Judge Jed Rakoff, who oversaw both the criminal and civil cases, had found Mr Gupta was unlikely to commit future crimes at his criminal sentencing but nevertheless imposed a permanent ban in his civil case.
On Monday, Mr Waxman had argued to the 2nd Circuit that Rakoff's positions were inconsistent.
But a unanimous three-judge panel said on Tuesday that the standard in a criminal context was different from that in a civil case.
Mr Gupta was scheduled to report to federal prison on Tuesday. He previously lost an appeal of his conviction before a panel of judges at the 2nd Circuit but has asked the full court to rehear the case.
Copyright @ Thomson Reuters 2014