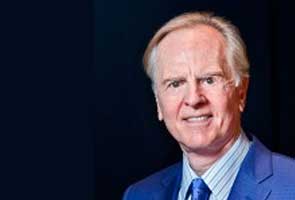 Former Apple chief executive John Sculley, whose marketing skills helped bring the personal computer to desktops worldwide, says he plans to launch a mobile phone in India to exploit its still largely untapped smartphone market.
Inflexionpoint, an information technology supply company co-founded by Mr Sculley, will start selling the smartphones next month in India under the new Obi Mobiles brand, the Singapore-based firm said in a statement emailed to AFP on Saturday.
"The smartphone share in India is only 20 per cent, leaving the larger part of the ground with opportunities yet to be tapped," Mr Sculley said.
Mr Sculley, 75, who served as CEO of Apple from 1983 to 1993, famously clashed with technical visionary Steve Jobs over strategy, leading to the Apple co-founder's exit from the company.
Mr Jobs, who returned to head up Apple in 1997 and turned out a string of blockbuster products, died in 2011 after battling cancer.
Inflexionpoint plans to invest $20 million this year to set up a supply chain, design centre and offices in India, producing "affordable smartphones with superior technology", Mr Sculley said in the statement.
Smartphone shipments in India tripled from 16.2 million in 2012 to 44 million in 2013, according to the International Data Corporation (IDC), and analysts expect similar growth this year.
Mr Sculley said he hopes Obi's phones will lure premium phone buyers away from players like Samsung and Apple. Samsung dominates India's smartphone market by sales, followed by Sony and Apple.
"We feel there is an opportunity to build another brand in India that would combine global branding skills... (and) go into price points that are more like the local brands - in the 5,000 to 8,000 rupee ($83 to $133) range," he said.
Obi's devices will be sourced from China and after setting up in India, the company aims to expand to other growing markets in the Asia-Pacific, Middle East and Latin American regions.
Mr Sculley said that his old company, Apple, now has a dilemma over whether to lower the prices of its products.
"Either they miss the (emerging) market where 70 per cent of the industry is, or risk the falling of their stock price dramatically if they go after the market," he told a news website on Saturday.
"But one company's dilemma is another company's opportunity," he said.