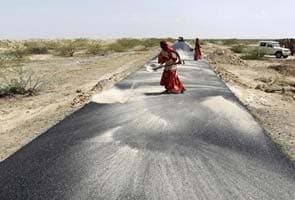 After bagging a Rs 329 crore order in Chattisgarh on Tuesday, Era Infra Engineering says it is confident of improving its orderbook further.
"Lot of other projects are also there in pipeline for different stages of bidding, we will further strengthen our order book and it will also improve our bottomline in time to come," TD Arora, whole time director, Era Infra Engineering told NDTV. (Watch video)
Era Infra's orderbook currently stands at over Rs 8,000 crore.
The Chattisgarh project is for upgradation and redevelopment of the existing road from Raigarh to Saraipalli. The revenues from the project will start flowing in, in the first quarter itself, Mr Arora said.
"We have started mobilising the project and of course you will see results in this first quarter itself," he said.
The company has six projects in the pipeline of which two have been commissioned- the Hyderabad Ring Road and Gwalior Bypass.
"Apart from this our Rohtak- Bahadurgarh Bypass is there, that is we have already got provisional COD (commercial operations date), that also will get commissioned very soon," Mr Arora said.
The stock on Tuesday ended at its day high of Rs 7.25 on the NSE, up 4.32 per cent. The scrip outperformed the broader Nifty and the Sensex which ended in the red.