Highlights
EPFO has taken many steps to ease claim process for subscribers
Employer and employee each contribute 12% of basic salary towards EPF
EPF kitty meant for long-term savings, say financial planners
Today, checking your EPF passbook and balance takes only a few seconds. Over the years, retirement fund body EPFO (Employees' Provident Fund Organisation) has taken many initiatives to ease the claim process for subscribers as well as provide different services like online checking of EPF passbook and balance. Typically, both the employer and employee contribute 12 per cent of basic salary plus DA (if any) towards EPF. An employee's 12 per cent contribution goes toward EPF kitty, while 8.33 per cent out of the total 12 per cent of the employer's contribution is invested in EPS or pension scheme. The balance 3.67 per cent is invested in EPF.

Financial planners say that EPF kitty should be meant for long-term savings, not to be withdrawn before one's retirement.

How To Check EPF Balance, Passbook Online:

EPFO has prominently displayed the link (E-Passbook) for checking EPF balance, passbook on its website. The e-passbook link can be found at the top-right corner of EPFO's website.

(A snapshot of the EPFO website)

Subscribers are then asked to enter the UAN number and password. (UAN is allotted by the retirement fund body and the number allows portability of provident fund accounts from one employer to another.)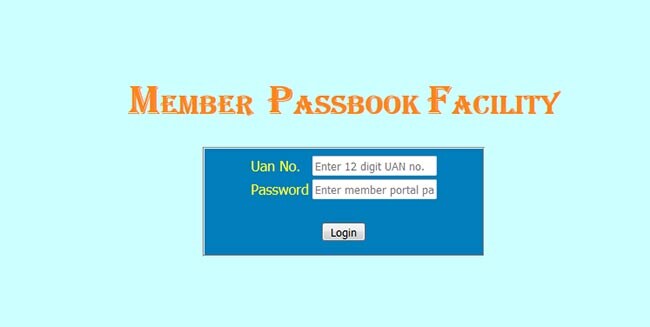 (A snapshot of the EPFO website. Subscribers need to enter their UAN and password)

Subscribers can then click on the View Passbook button to open their passbook and know their balance.


Subscribers can also quickly check their passbook/balances through EPFO's app - m-epf. EFPO subscribers need to click on MEMBER and thereafter Balance/Passbook and then enter their UAN number and password
(A snapshot of EPFO's e-epf app)
Missed Call Facility
An EPF member can obtain their EPF balance, Aadhar-linking status with UAN & Bank account by giving missed call to 011-22901406 from their registered mobile number, EPFO said in a statement.
Other Developments
Retirement fund body EPFO aims to go paperless by August next year as part of Digital India initiative, which would improve delivery of services for its 5 crore subscribers. The Employees' Provident Fund Organisation (EPFO), which runs social security schemes like EPF, pension and insurance for formal sector workers, has already launched a host of online services like EPF withdrawals. The EPFO has a corpus of over Rs 10 lakh crore.
Get Breaking news, live coverage, and Latest News from India and around the world on NDTV.com. Catch all the Live TV action on NDTV 24x7 and NDTV India. Like us on Facebook or follow us on Twitter and Instagram for latest news and live news updates.