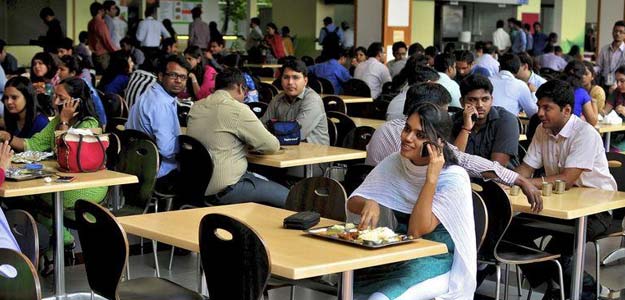 Highlights
Infosys management attributed the rise in attrition to seasonality
But some analysts are concerned over the spike in attrition rate
At TCS, attrition fell for the third straight quarter
Infosys disappointed investors as it missed first quarter earnings estimates last week. The slower-than-expected rise in revenue (up 2.2 per cent/1.7 per cent quarter-on-quarter in US dollar/constant currency terms) forced Infosys to revise down its annual sales forecast, leading to a carnage in its shares on Friday.

But more than the operational numbers, it was the sharp rise in attrition that took many analysts by surprise. Infosys said Q1 attrition rose to an annualized 21 per cent versus 17.3 per cent in the previous quarter. Compare that to Tata Consultancy Services, where attrition fell for the third straight quarter to 13.6 per cent in Q1.

Infosys management attributed the rise in attrition to seasonality. Some employees left post the announcement of wage hikes in the June quarter, while others quit to pursue higher studies.

But analysts at Ambit Capital were not satisfied by the official explanation.

"Management didn't have a good explanation for the attrition spike to 21 per cent, quarterly annualised, two times that of TCS!" the brokerage said in a report.

Other analysts noted that the pick-up in attrition negates much of the work done under CEO Vishal Sikka, who was roped in from German software giant SAP in August 2014 to boost the sagging fortunes of the company.


"Infosys did a commendable job in past few quarters of lowering attrition from 26.4 per cent to 17.3 per cent. Hence, the sudden jump by 370 basis points in Q1FY17 is really worrisome," said Edelweiss Securities.
The brokerage said that revenue loss and replacement cost of attrition are very severe, adding that it will monitor the metric very closely going forward.
At a press conference on Friday, Infosys COO Pravin Rao said that attrition in 'high performers' category was lower and has declined by 200 basis points sequentially. He also announced that Infosys was
introducing employee stock options or ESOP programme after a gap of 13 years
, in an indication that the company was serious about tackling the issue quickly.
According to analysts, Infosys will award restricted stock units (RSUs) to 7,500 "high performers" at junior to mid-management level to start with and will later cover mid to senior management.
"These measures along with higher employee engagement should aid attrition control," said Kotak Institutional Equities.