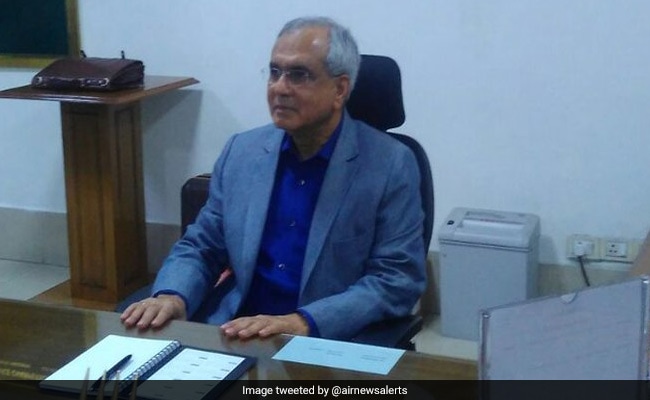 New Delhi:
The September quarter growth rebound shows that the economy has come out of the woods and economic expansion for the full year will come in at 6.5-7 per cent, Niti Aayog Vice-Chairman Rajiv Kumar said today.
For the moment, "we must celebrate uptick in the economy", Kumar further said.
"We have now started rising again. The economy has come out of the woods and taken two huge reforms (demonetisation and GST) in its stride.
"... In the next half of 2017-18, we will grow by more than 7 per cent. The growth in the full year of the current fiscal will come between 6.5 per cent and 7 per cent. Henceforth, I am sure it will keep accelerating," Kumar told PTI.
Asked whether the RBI should cut key interest rates at next policy meeting as the country is still growing below its potential, Kumar said, "I do not want to comment on that simply because now there is an autonomous Monetary Policy Committee (MPC) and they will do what they will do."
He, however, wondered why commercial banks are not willing to reduce lending rates, saying they earn only 6 per cent when they put money with the RBI and the lending rate is 11.5 per cent for even AAA borrowers.
"Their (commercial banks) deposit rate is that you and me get on savings deposits, that is 3.5 per cent. I think the commercial banks' transmission mechanism has to improve and they must get their act together and become more efficient," Kumar observed.
Reversing a five-quarter slide in GDP growth, Indian economy bounced back from a three-year low to expand by 6.3 per cent in July-September as manufacturing revved up and businesses adjusted to the new GST tax regime.
The GDP growth in the second quarter of 2017-18 compares to 5.7 per cent in April-June, the lowest growth rate since the Narendra Modi government took office, and 7.5 per cent in the September quarter of the previous fiscal, showed government data released here today.
(Except for the headline, this story has not been edited by NDTV staff and is published from a syndicated feed.)