Someone has put it well -
"Either make your money work for you, or you'll always have to work for your money."
There indeed are simple hacks to ensure you get the maximum out of your money by following a few, simple ground rules. There are many ways in which you can grow your capital to provide for all your worldly needs, as long as you live! The one way, to start with, could be your savings bank account.
Take a hard look at your savings bank account
People accumulate large sums of money in their savings account as 'liquid cash' to be used in times of need. They know that they are letting go of many growth opportunities for the comfort of this 'liquid cash'. Most saving accounts give about 4 per cent returns on the idle cash lying in there.
Are you one of those who sacrifice attractive returns and let your hard-earned money lie unproductive?
Then start with your savings account first!
Consider the Simply Save App from Reliance Mutual Fund. This mobile app is linked to you investment in
Reliance Money Manager Fund
and allows you to redeem your investments in maximum half an hour; 365 days, 24X7. It has a cap of Rs 2 lakhs but then this is a great option to invest your idle savings in a debt mutual fund and you earn very good returns (compared to savings account) while enjoying bank-like liquidity as your money earns very attractive returns! To know more about Simply Save App from Reliance Mutual Fund, please
check here
.
Isn't this a great option to the old-fashioned savings account?
Convenience of investing: one click investments though the mobile application
Low risk scheme and offers:
Investments are assigned to the Reliance Money Manager Fund portfolio which is a debt fund offering moderate low risk and stable returns.
Instant Redemption:
The savings happen at the click of a button from your mobile and can be withdrawn within 30 minutes only.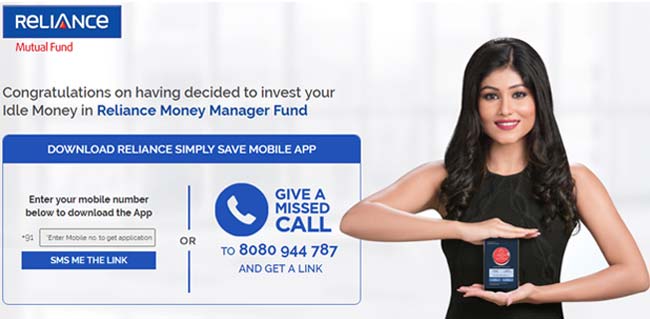 About Reliance Money Manager Fund
Reliance Money Manager Fund is an Ultra Short Term Debt Fund from Reliance Mutual Fund. Currently the fund has an AUM of Rs 16,051 crores and managed by veteran fund managers Amit Tripathi and Anju Chhajer.
Reliance Money Manager Fund - Growth plan - Growth Option has given 8.44 per cent annualized return since inception. The fund returns for 1, 3 and 5 years are annualized 8.59 per cent, 9.08 per cent and 9.12 per cent respectively. (Source: Value Research)
As you can see the above returns are much more than your savings bank account returns.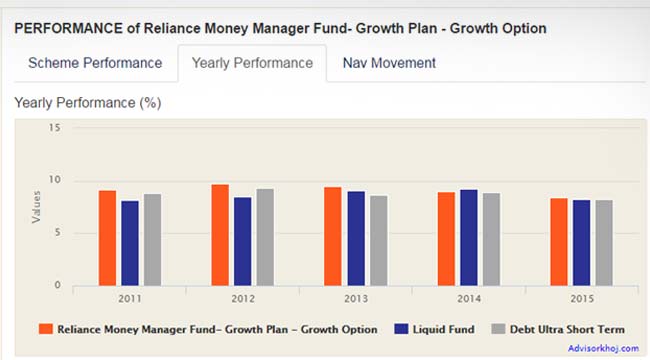 Source: Advisorkhoj
To understand the Simply Save App better and its feature, please see the video.
"Don't save what is left after spending; spend what is left after saving."
-
Warren Buffett
This valuable advice holds true for everyone wishing to have life-long control on their finances.
You may also like to read the Fund Review -
Reliance Money Manager Fund: Solid Performance from this ultra short term debt fundDisclaimer:
All information in this article has been provided by
Advisorkhoj
and NDTV Profit is not responsible for the accuracy and completeness of the same.