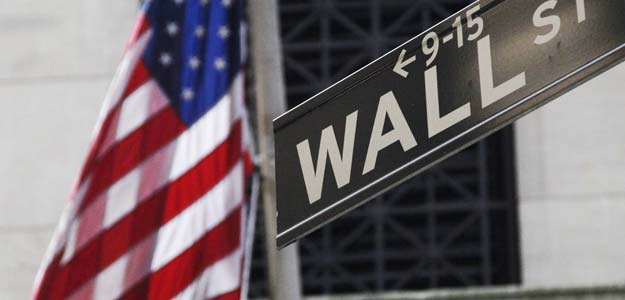 Wall Street stocks surged Monday on a string of pharmaceutical deals and speculation of more monetary stimulus in China.
The Dow Jones Industrial Average rose 263.65 points (1.49 per cent) to 17,976.31.
The broad-based S&P 500 jumped 25.22 (1.22 per cent) to 2,086.24, while the tech-rich Nasdaq Composite Index gained 56.22 (1.15 per cent) to 4,947.44.
US stocks were in the green all day after the S&P 500 shed 2.2 per cent last week, falling four out of five days.
Equity markets were also cheered by comments from People's Bank of China governor Zhou Xiaochuan that warned of disinflation and hinted at further monetary easing measures.
In the day's biggest pharma deal, Catamaran jumped 23.9 per cent to $59.83 after UnitedHealth announced it would buy the company for $61.50 a share in cash.
The deal will create the third-ranked pharmacy benefit manager -- the firms that manage prescription drug services between health insurers and insured patients. UnitedHealth gained 2.5 per cent.
Drug developer Horizon Pharma announced it would acquire Hyperion Therapeutics for $1.1 billion. Horizon rose 18.2 per cent, while Hyperion gained 7.6 per cent.
Auspex Pharmaceuticals bolted 41.5 per cent after it agreed to be acquired by Teva Pharmaceuticals for $3.2 billion. Auspex specializes in treatments for Huntington's disease. Teva advanced 0.9 per cent.
Tesla Motors advanced 3.0 per cent after chief executive Elon Musk announced on Twitter the company will unveil a "major" new product line on April 30. Musk said the new product is not a car.
Ford Motor rose 1.1 per cent as it announced plans to relaunch the Lincoln Continental luxury car in the US and China in 2016.
The Madison Square Garden company gained 4.5 per cent as it announced plans to spin off its sports and entertainment business to shareholders in a tax-free deal.
Pharma company Mylan fell 2.6 per cent on news that Abbott Laboratories plans to sell nearly one-third of its stake in the firm. In July, Mylan bought Abbott's non-US business for $5.3 billion in Mylan stock.
Bond prices were mixed. The yield on the 10-year US Treasury held steady at 1.96 per cent, while the 30-year rose to 2.55 per cent from 2.53 per cent Friday. Bond prices and yields move inversely.
© Thomson Reuters 2015