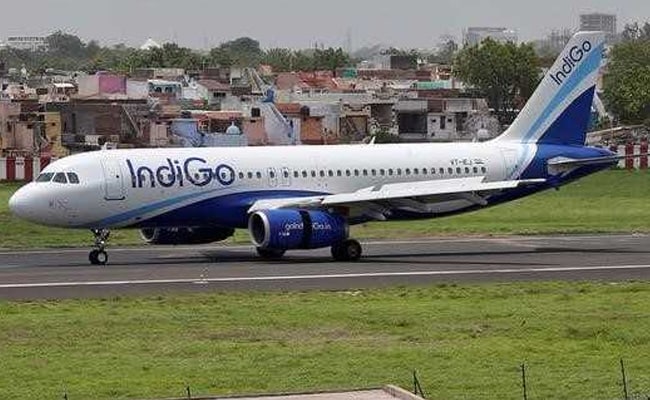 In the run-up to the festive season, IndiGo is offering all-inclusive tickets below Rs 1,200 on select flights in a limited-period promotional scheme. "Get out of town with an extremely fair deal, with fares starting as low as Rs 1,141," the airline said on its website - goindigo.in. Bookings for the promotional sale - applicable for travel between October 26, 2017 and April 15, 2018 - are open till October 13, 2017, according to the IndiGo website. The offer by IndiGo comes in the run-up to Diwali 2017, which falls on 19 October this year. IndiGo's promotional sale requires flyers to make advance bookings. "This offer is applicable on bookings made 15 days prior to travel," IndiGo added.
The lowest fare - Rs 1,141- offered under the scheme was on flights from Jammu to Srinagar, according to the IndiGo website. Under the sale, some other routes offered by the airline below an all-inclusive Rs 1,200 include Delhi-Chandigarh (starting at Rs 1,145), Chandigarh-Delhi (Rs 1,147) and Srinagar-Jammu (Rs 1,181). Destinations covered under the limited-period offer included Mumbai, Goa, Kolkata, Kochi, Ranchi, Amritsar, Guwahati and Port Blair, according to the IndiGo website.
A search on the IndiGo bookings portal on Thursday showed tickets for a flight originating from Jammu to Srinagar later this month were available at Rs 1,141 under the sale.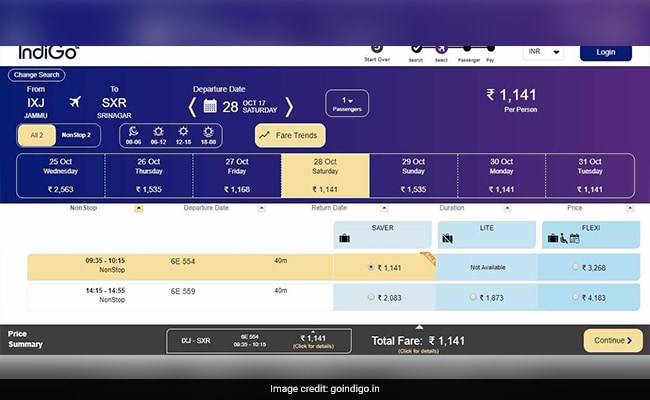 (IndiGo tickets for flights from Jammu to Srinagar later this month were available from Rs 1,141 on the airline's bookings portal)
Other fares offered under the IndiGo sale included flights from Delhi to Lucknow (starting at Rs 1,297), from Lucknow to Delhi (Rs 1,297), from Kolkata to Bhubaneswar (Rs 1,299), from Ahmedabad to Delhi (Rs 1,447) and from Kolkata to Ranchi (Rs 1,799).
This offer is valid only on select non-stop flights from Ahmedabad, Amritsar, Bengaluru, Bhubaneswar, Delhi, Goa, Jaipur, Jammu, Kochi, Kolkata and Mumbai, IndiGo said on its website.
Without divulging the total number of seats offered under the sale, IndiGo said: "This offer is subject to availability...The offer is applicable on all our booking channels."
Airlines operating in the Indian sector are witnessing high competition on the back of robust passenger traffic growth. Rival airlines
AirAsia India
and
Vistara
are also offering discounts in limited-period schemes.
Recently, a global airline association said that the country's domestic passenger traffic grew by 16 per cent in the month of August. "Indian airlines achieved a 36th consecutive month of double-digit traffic growth as demand rose 16 per cent," the International Air Transport Association (IATA) said in its global passenger traffic data.
"Traffic continues to be stimulated by sizeable increases in the number of domestic routes served," IATA added.