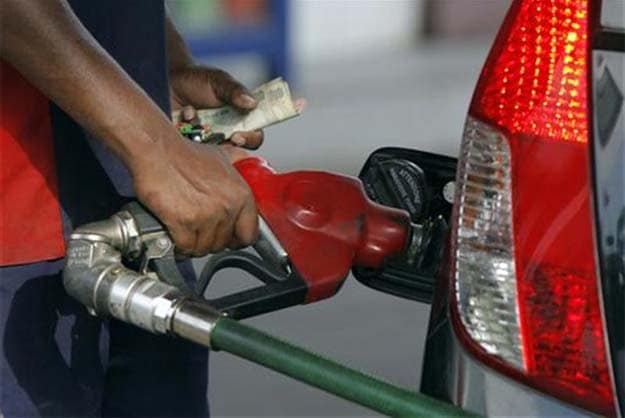 Diesel prices are likely to come down soon, the government has indicated. The government is working to deliver on its pre-election promises and will focus on bringing diesel prices down, Home Minister Rajnath Singh said on Sunday.
"We are working hard to deliver on our promises. We stopped rise of prices and we slashed price of petrol by up to Rs 2.50. Our eyes are now on diesel," Mr Singh said.
Petrol prices were cut on Saturday, the third reduction in rates this month. However, diesel prices were hiked by 50 paise per litre.
Diesel currently costs Rs 58.97 per litre in Delhi and Rs 67.26 per litre in Mumbai. In Kolkata it is priced at Rs 63.81 per litre and Chennai charges Rs 62.92.
Petrol prices in Delhi stand at Rs 68.51 per litre and Rs 76.41 per litre in Mumbai. It is priced at 76.14 per litre in Kolkata and Rs 71.55 in Chennai.
Fuel prices vary from city to city due to state taxes.
Diesel prices were hiked on Saturday in line with the government's decision in January 2013 to raise prices till the retail rates come at par with its import cost. The difference between the retail sale price and the actual cost of diesel has now dropped to a historic low of just 8 paise. The narrowing of the gap also known as under-recovery is likely to prompt the government to soon deregulate prices of diesel.
Deregulation translates into allowing oil marketing companies to sell at market determined prices. Petrol prices were deregulated in June 2010.
Diesel retail prices are almost in line with the fuel's imported cost, for the first time in over a decade.
Diesel under-recovery stood at Rs 8.37 per litre in March. When Narendra Modi-led BJP (Bharatiya Janata Party) came to power in May, losses on diesel sales stood at Rs 4.41 per litre. The under-recovery fell to Rs 1.62 per litre in the second half of June but doubled to Rs 3.40 in the first fortnight of July. The losses fell to Rs 2.49 in the second half of July. They stood at Rs 1.78 in second half of August.
(With inputs from PTI)