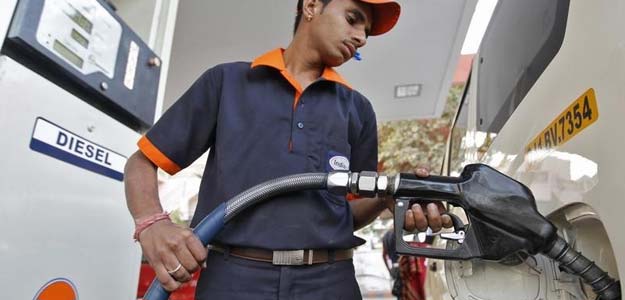 New Delhi: In a big reform move, the Narendra Modi government has lifted controls on diesel pricing aligning it with global prices, leading to an immediate fall in pump prices of nearly six per cent and easing the subsidy burden on the exchequer.
"Henceforth, like petrol, pricing of diesel will be market determined," Finance Minister Arun Jaitley said after a cabinet meeting on Saturday.
Global crude prices are at a four-year low. The Rs. 3.37 rupees a litre cut in prices of diesel, triggered by the falling global oil prices, will help ease inflation that has already fallen to a multi-year low.
Indian Oil Corp, the country's biggest fuel retailer, announced, "We have decided to reduce prices and in Delhi, prices are likely to go down by 3.37 rupee a litre from midnight tonight." Diesel currently sells at Rs. 55.60 per litre in the national capital.
Today's move means the government will have no further role to play in determining the price of diesel. Oil companies will have the freedom to raise or lower prices according to international oil prices.
In January 2013, the government had decided to raise diesel rates in small monthly doses of about 50 paise until pump prices were aligned with market rates and diesel could be deregulated. Since then, the rates have cumulatively risen by Rs. 11.81 per litre in 19 installments.
From September 16, state-run companies started making profit on diesel sales for the first time in history because of a sharp slump in global crude prices. That wiped the under-recovery on selling diesel.
Diesel sales account for about 55 per cent of overall sales of oil marketing companies, so this is a big positive for them. The move will also benefit the economy because the government's subsidy burden will go down.
Last year (2013-14), the government had to pay Rs. 85,000 crore for selling diesel, LPG and kerosene at below-market prices. This year the subsidy burden was estimated much lower - around Rs. 63,000 crore. The freeing up of diesel prices and the sharp fall in global crude prices is expected to save the government over Rs. 10,000 crore in subsidy payment this year, analysts say.
There have been expectations of a cut in diesel prices since last month when state-owned oil firms started making profit on diesel sales for the first time in history due to a fall in global oil prices.
The benefit, however, could not be passed on to consumers as the model code of conduct had come into place with the announcement of elections to Maharashtra and Haryana assemblies.
Prime Minister Narendra Modi, who won a huge mandate in May on the promise of economic reforms, has been under pressure lately to make some moves in that direction by announcing some big ticket policy decisions.
Deregulation is also expected to bring private firms such as Reliance Industries and Essar Oil into retail sale. Such companies do not receive government support for selling diesel at discounted rates and currently sell via state refiners, despite having their own sales infrastructure.