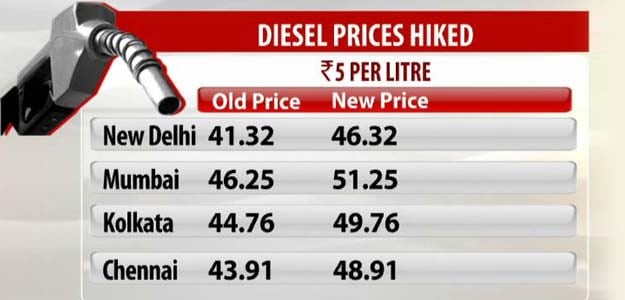 The Manmohan Singh government has bitten the subsidy bullet on fuel prices in the face of huge opposition not only from allied parties, but even within the Congress. The Cabinet Committee on Political Affairs on Thursday approved a Rs 5 hike in the price of diesel. This excludes value added tax. Mulayam Singh Yadav's party has already demanded a rollback.
The price of diesel, which is partially deregulated product, had last been hiked by Rs 3 in July last year. The Rs 5 increase does not include value added tax. Diesel will now cost Rs 46.32 per litre in the Capital, and Rs 51.25 in Mumbai.
The prices of petrol, LPG and PDS kerosene have been left unchanged, but the government has restricted the sale of subsidized LPG to six cylinders a year for each household. They will have to market rates for anything they use beyond that. To offset the loss from not hiking petrol prices at this time, it has proposed a reduction in excise duty on petrol by Rs 5.30 per litre.
Reacting to the hike, C. Rangarajan, chairman of the Prime Minister's Economic Advisory Council, said the government had taken the right decision, and that fiscal deficit had to be contained. "An increase in diesel prices in India should avert a credit rating downgrade for the country."
The decision was also lauded by automobile association SIAM, with president S. Sandhiliya saying the hike was a " very good decision and I am happy very happy that the government has bitten the bullet as it is extremely important, and is in line with the recommendations".
The BJP has slammed the government, with senior leader Yashwant Sinha warned of mayhem in the economy. "This is going to cause undue hardship. Prices are not under control. This will lead to overall inflation," he said. Prices, he said, could have been increased in small doses.
Kamal Farooqui of the Samajwadi Party too criticized the UPA government, saying it had taken a political decision, waiting for the monsoon session of parliament to get over. The jump is too big. We will demand a rollback. Definitely, we will ask for some consideration to be given, we are concerned," he said.
The government subsidises the prices of diesel, cooking gas and kerosene to dampen inflation and protect the poor, a popular policy that has put a severe strain on public finances.
The government has acknowledged earlier that a price hike is essential for curbing fiscal deficit, a pre-condition for reviving growth in Asia's third largest economy. A price increase will also aggravate inflation, as costs, such as road freight rates, will rise.
State-run oil marketing companies are losing Rs 550 crore everyday on under-recoveries as a result of higher crude prices in the global markets. They make a loss of Rs 17/litre on diesel sales, Rs 32.7/litre on kerosene sales, and Rs 347/cylinder on cooking gas sales every day.
The move was welcomed by oil companies. R.K. Singh, CMD at Bharat Petroleum, said: "This is a very good decision, and will certainly help oil companies and reduce the burden on the government in terms of subsidies. The reduction in the excise duty on petrol is good for us."
"This is a welcome move and is very good for the oil industry," Oil India CFO T.K. Ananth Kumar said.
R.S. Butola, chairman of Indian Oil Corporation Ltd told NDTV that the company is committed to cutting petrol prices whenever possible. "Diesel accounts for 53 per cent of total subsidies. Oil companies are running a deficit of Rs 6,000 crore every month. By reducing the excise duty on petrol, we have narrowed the gap between the prices of petrol and diesel. A narrow margin will be good for economy. If global petrol prices fall, we will pass on the benefits," he added.