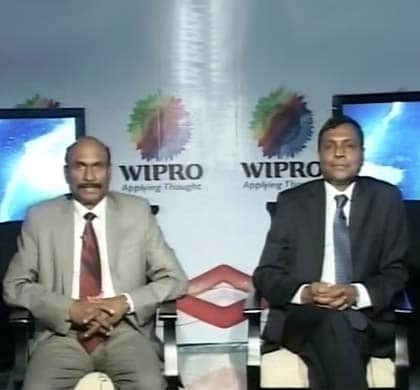 Highlights
Wipro, India's third largest software services firm, reported muted growth in the June quarter. Net profit rose 6.6 per cent sequentially to Rs 1,580 crore against Rs 1,481 crore in the March quarter, lower than estimates of Rs 1,641 crore. Suresh C. Sena
New Delhi:
Two days after father Mulayam Singh Yadav wrote to the Prime Minister against allowing foreign direct investment in multi-brand retail, son Akhilesh Yadav has said he is not against FDI, if the interest of farmers is protected.
The 39-year-old Chief Minister of Uttar Pradesh said at a FICCI meet in New Delhi today, "We are not against FDI in retail. FDI must come, but our only reservation is that farmers' interests must be protected. Our farmers and villagers shouldn't have to bear any loss. If our manufacturing sector is not strengthened, our retail sector and markets will face difficulties."
Mr. Yadav did carefully qualify his statement. He was quoted by PTI as saying, "My party and Netaji (Mulayam Singh Yadav) have said that as long as the interests of farmers and small shop-keepers are not protected, our opposition to it (FDI in retail) will continue."
But the stance was remarkably different from the blanket "no" of Mr Yadav senior. The letter that the Samajwadi Party chief wrote to the PM over the weekend was jointly signed by leaders of Left parties and the Janata Dal (Secular). "Reports are appearing that the Government of India is going to revive the decision to allow FDI in multi-brand retail trade. This decision was suspended earlier due to widespread opposition in the country…In a situation when employment growth has slowed down…the entry of foreign supermarkets would further aggravate the employment situation…We urge the government not to open up retail trade to FDI any further. Political parties across the spectrum are opposed to this move. Many state governments have also stated their opposition," the letter read.
The SP contradiction was widely reported on Tuesday afternoon, and senior leader and Mulayam Singh Yadav's brother Ram Gopal Yadav hastened to clarify that the party was indeed opposed to FDI in retail. "Lakhs of families will be affected by this (FDI in retail) and even if government introduces this, we will not let it come into force in UP," Mr Yadav was quoted by PTI as saying.
Shares of retail companies like Pantaloon and Trent plunged as markets opened after the weekend on Monday morning. The UP chief minister's words sent then up again on Tuesday. Pantaloon shares, which had shed 4.6 per cent in value on Monday, rose 3 per cent on Tuesday soon after Akhilesh Yadav spoke. They gave up gains since and ended in the negative territory. Pantaloon Retail shares closed 0.7 per cent down while Trent shares fell 1 per cent at close on Tuesday.
Mulayam Singh Yadav has so far been steadfast in his opposition to allowing FDI in multi-brand retail. Nine months ago, when the Cabinet cleared the proposal to allow FDI in retail, he had said, "The Samajwadi Party is against the government's move to allow FDI in retail by 51%. This will favour American companies. We will protest in Parliament; we will go from villages to small towns and protest."
India allows single brand retail stores to be set up by foreign companies. However, global majors like Walmart, Carrefour, Tesco are not permitted to set up retail stores.
With the economy struggling and accusations of a policy paralysis, the government had bitten the bullet in November last year and announced it would allow 100 per cent FDI in single-brand retail and 51% in multi-brand retail. It was immediately met with protests from many parties, both from the opposition and some key allies of the Congress-led UPA.
By December, much political arm-twisting, especially from recalcitrant ally Mamata Banerjee, had forced the Manmohan Singh government to put the decision to allow FDI in multi-brand retail in cold storage. "Pending further consultations," it said.
It was a huge blow to the image of the government, already perceived as one not able to push measures for economic growth due to political compulsions. Leaders like the US' Barack Obama have exhorted India to allow foreign investment in retail – a controversial comment that brought Left, Right and Centre of Indian polity together, in rare unanimity, to tell the US President that India's policy-making was none of his business.
Simply put, the UPA does not have the numbers in Parliament to push through legislation without its allies and supporting parties on board. The Samajwadi Party is one such supporting party – it has bailed the Congress out of many a tight spot. Industry will be watching the politics keenly - if the Samajwadi Party does walk its young leader Akhilesh Yadav's talk and comes around to supporting FDI in multi-brand retail, it would help the UPA government pave the way for a significant reform.