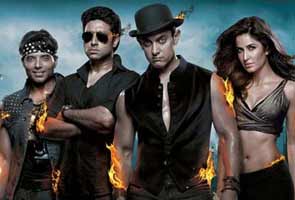 Dhoom 3 continued with its record-breaking streak at the box office with overall collections nudging closer to the Rs 250 crore mark.

According to estimates, the Aamir Khan action thriller has pulled in Rs 233.57 crore in just five days of its release.

Trade analyst Taran Adarsh in a tweet said, "Here's Fri to Tue total of Dhoom3: India Rs 149.46 cr + Overseas Rs 84.11 cr [$ 3.11 mn +]. Worldwide total: Rs 233.57 cr. BLOCKBUSTER!"

The third instalment of Dhoom franchise, directed by Vijay Krishna Acharya, is expected to continue its strong performance due to the New Year holidays.

According to industry estimates Dhoom 3 is expected to cross the Rs 300 crore mark at the box office. And its success will be a big boost for the multiplex operators.


Pramod Arora, president & CEO of PVR, said, "I think Dhoom 3 may enter into the Rs 300 crore club which is being spoken in the industry and the fraternity. And this is unprecedented."
He added: "This has never happened before but most likely it seems that Dhoom 3 is going to turn the fortunes around for most of the multiplex operators across the country, including us."
In just five days, Dhoom 3 has already turned out to be highest Bollywood grosser in some overseas markets like Australia and New Zealand.
According to reports, Dhoom: 3 has broken box office records in Pakistan in the first week of its release, with multiplexes running five shows a day to capitalise on interest in the film.
(With Agency inputs)