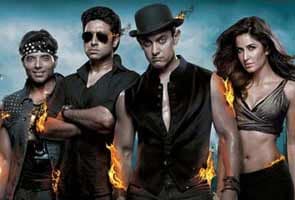 "Dhoom 3", starring Aamir Khan, has smashed box-office records to become the highest grossing Indian film of all time, according to industry experts.
The third film in the Dhoom franchise is the first Indian film to cross the Rs 500 crore mark in gross revenues around the world, according to its production house Yash Raj Films.
The group said that the Dhoom 3 had grossed Rs 501 crore, and trade experts confirmed it had surpassed the previous highest-grossing Bollywood film, a title recently clinched by Shah Rukh Khan's "Chennai Express".
"Dhoom 3 is the number one Bollywood film worldwide," said Vajir Singh, editor of Box Office India.
Mr Singh attributed the success of the "Dhoom 3" partly to the "star appeal" of Aamir Khan, whose earlier 2010 film "3 Idiots" held the highest-grossing record for more than three years.
Dhoom 3, directed by Vijay Krishna Acharya and also starring Abhishek Bachchan and Katrina Kaif, is set largely in Chicago and tells the story of an Indian cop, his sidekick and their latest adversary, an illusionist played by Khan.
"It's huge and this record won't be easy to break anytime soon," said trade analyst Komal Nahta of the success of the film, which was released on December 20 and has been shown at more than 4,400 screens in India and 750 screens abroad.