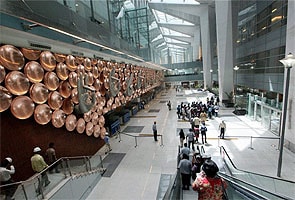 New Delhi:
Aeronautical tariffs, including landing and parking charges and user development fees (UDF) charged from passengers, for Delhi and Mumbai airports would remain unchanged for another two months.
According to official sources, the tariff for these two major airports was fixed till March 31 this year but airport operators -- DIAL and MIAL -- have sought more time for fixing these charges.
Besides UDF and landing, parking charges, the tariff include charges for housing and parking of aircraft, ground handling and ground safety services, supply of fuel, navigation, surveillance and supportive communication for the airplanes.
In its latest orders for the two airports, the Airports Economic Regulatory Authority (AERA) said the rates of aeronautical charges would continue at the same levels for two months till May 31 or till further orders.
Normally, the control period for tariffs fixed by AERA is five years.
While Delhi International Airport Limited (DIAL) had sought a six-month extension for prevailing tariff rates since the fixation of new charges for the second control period would take some time, GVK-led Mumbai International Airport Limited (MIAL) had wanted the same rates to continue till the new rates are fixed, the sources said.
Late last year, GMR-led DIAL had urged AERA to put on hold tariff determination, citing unresolved financial issues including rate of return on equity and calculation of asset base.
However, the Civil Aviation Ministry wanted reduction in the Delhi airport tariff rates at least by half for the next five years, which DIAL had appealed against.
Earlier while determining the tariff structure, AERA had allowed Delhi airport to hike aeronautical charges by 346 per cent from May 2012, lower than its demand for a 775 per cent hike.
But this was opposed by many airlines as well as the International Air Transport Association (IATA), which said these high charges have made Delhi airport the most expensive in the world, badly hurting fliers and airlines.
Last year, government auditor CAG and the Parliamentary Standing Committee of Transport, Tourism and Culture had slammed the Civil Aviation Ministry on various issues, including high airport charges and for giving away Delhi airport and its land to GMR-led DIAL at a cheap price.