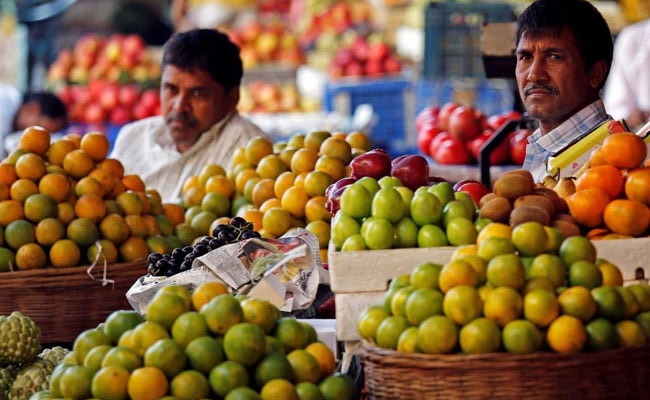 Highlights
Retail inflation breaches RBI's medium-term target for 2nd straight month
Food inflation rose 4.96% in December from 4.35% in November
Rising inflation amid firm global crude prices is a worry for government
New Delhi:
New Delhi: Rising food prices pushed India's retail inflation to a 17-month high in December, breaching the central bank's medium-term target for the second straight month, which could intensify pressure for it to raise policy rates in the next few months.
The measure of consumer price inflation, the CPI index, rose 5.21 per cent in December from a year earlier, the Ministry of Statistics said on Friday.
Analysts polled by Reuters had predicted December's consumer inflation rate would climb to 5.10 percent, the highest since July 2016, from 4.88 percent in November.
Annual retail food inflation rose 4.96 per cent in December from 4.35 per cent in the previous month.
The Reserve Bank of India held its policy rate steady at 6 per cent last month and said all possibilities were on the table, depending on how price pressures and growth panned out.
The RBI, which has a medium-term inflation target of 4 per cent, has raised its inflation estimate to 4.3 per cent to 4.7 per cent for the six months through March. But some analysts feel inflation could overshoot its estimates.
The RBI holds its next policy review on February 7.
Sunil Sinha, principal economist at India Ratings, said the RBI was unlikely to change its policy stance soon.
"If the inflation pressure continues beyond this level, one can expect the central bank to change its policy stance to hawkish," he said.
Rising inflation amid firm global crude oil prices is a major worry for Prime Minister Narendra Modi ahead of his last full-year budget, due on February 1, as he hopes to win a second term in 2019.
Analysts said any sharp rise in state spending in the budget that fuels inflation could force the central bank to raise rates earlier than expected.
While India is expected to grow at 6.5 per cent in the current fiscal year ending in March, a continued rise in inflation from 1.46 per cent in June, the lowest on record since 2012, has alarmed policymakers.
Crude prices have rallied, sending Brent crude above $70 a barrel on Thursday for the first time since December 2014, a worry that India imports most of its energy needs.
Despite a cut in taxes, retail petrol prices have risen 5.6 per cent and diesel by 9 per cent since June in Delhi.
© Thomson Reuters 2018
(Except for the headline, this story has not been edited by NDTV staff and is published from a syndicated feed.)