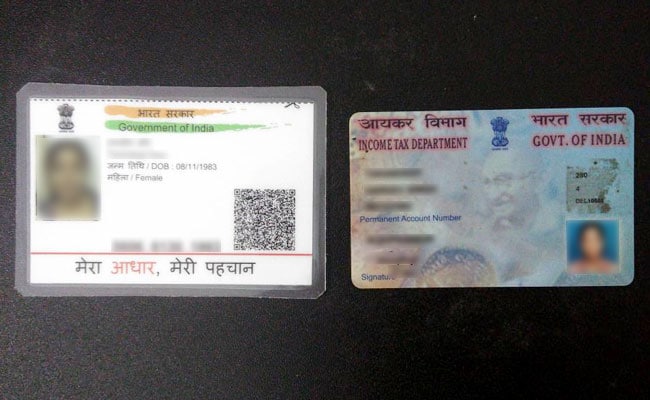 Linking of Aadhaar card with PAN or Permanent Account Number card - issued by the Income Tax Department - is now mandatory for all income tax payers. A deadline of March 31, 2018 has been set for Aadhaar-PAN linking. Extending the previous deadline of December 31, 2017 last week, the Central Board of Direct Taxes (CBDT) said the move was to facilitate the process of Aadhaar linking. "It has come to notice that some of the taxpayers have not yet completed the linking of PAN with Aadhaar," said the CBDT, the apex policy-making body of the Income Tax Department.

Meanwhile, Aadhaar card can be linked with PAN card through multiple ways. Among these, the Income Tax Department has provided an online facility that enables users to link their Aadhaar card with PAN card from the comfort of their home.

Here are some ways to link your Aadhaar card with PAN card:

Through Income Tax Department's E-Filing Portal - incometaxindiaefiling.gov.in

This tool can be accessed either by a link or by visiting the e-filing website and clicking on the 'Link Aadhaar' link.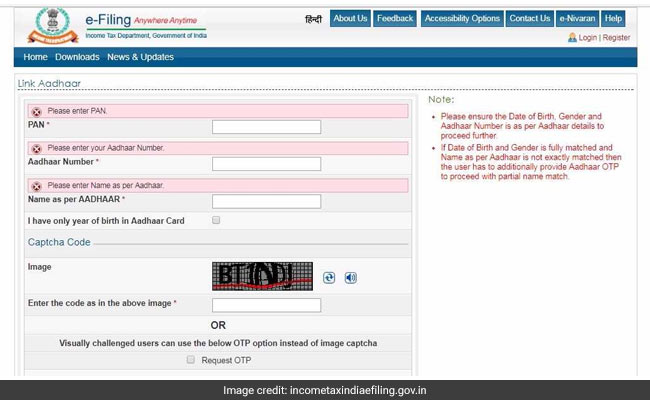 (The taxman has provided an online tool to link PAN with Aadhaar through its e-filing portal)


Once on the 'Link Aadhaar' page, the user is required to enter his or her PAN, Aadhaar number and full name as given on Aadhaar card, along with a security code.
After entering the details correctly, proceed by clicking on the 'Link Aadhaar' button.
Details such as name, date of birth and gender as per PAN will be validated against Aadhaar, according to the Income Tax Department's website.
Please ensure that entries made in the 'Aadhaar number' and 'name as per Aadhaar' fields are "exactly the same as printed on your Aadhaar card", the taxman adds on its website.
Besides, there are also some other ways to link your Aadhaar card with PAN card.
Through SMS

For all taxpayers whose name given in the Aadhaar card and PAN card are identical, a simple SMS-based facility is provided to achieve the linking. Such assessees need to send an SMS to 567678 or 56161 in the format: UIDPAN<12-digit Aadhaar><10-digit PAN>

For example: UIDPAN 111122223333 AAAPA9999Q


However, in case of assessees whose names given in the Aadhaar and PAN cards have a "minor mismatch", according to the Income Tax Department, the linking can be achieved using an online facility.
Through PAN application form

Aadhaar can also be seeded into the PAN database by quoting the biometrics-based identity number in the PAN application form - for allotment of a new PAN or for reprint of PAN card, the taxman has said.

"In case where Aadhaar name is completely different from name in PAN database then the linkage may fail and the PAN holder has to change the name in either Aadhaar or in PAN database or visit personally to designated PAN application centre of NSDL eGov or UTIITSL for Biometric Aadhaar authentication," the taxman had said earlier.