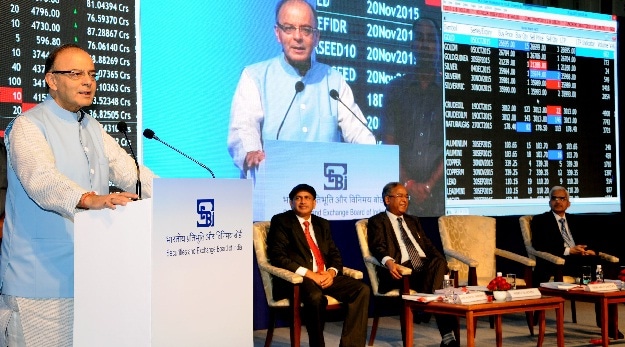 Mumbai
: With the commodity derivatives coming under the Securities and Exchange Board of India's jurisdiction, Finance Minister Arun Jaitley on Monday said the capital market regulator must ensure that manipulative activities are curbed in this market and expressed confidence that National Spot Exchange Ltd-like problems would be dealt with effectively.
Mr Jaitley, who formalised on Monday the merger of Forward Markets Commission (FMC) with Sebi by ringing the customary bell, said that the amalgamation will bring convergence of regulations in the commodities and equity derivatives markets.
"The merger will increase the economies of scope and scale as there are strong commonalities between all kinds of trading. I am sure that Sebi is prepared to regulate the commodity derivatives market," he said.
"It would be a challenge for Sebi because this is an additional responsibility, but Sebi has matured over last two decades to take on (such responsibilities)," Mr Jaitley said.
To a question on the emergence of NSEL-like crisis situations, Mr Jaitley said, "You always have aberrations in a free market... But a free market also means being a fair market and if such incidents do occur, I'm sure we have strong regulatory mechanisms to deal with it."
A massive Rs 5,700-crore payment crisis at National Spot Exchange Limited (NSEL) was one of the key triggers for the merger of FMC with Sebi, although proposals in this regard have been in place for 12 years now.
Mr Jaitley said, "As this underlying physical market is widespread, fragmented and unregulated for certain commodities, Sebi needs to have a proper mechanism to capture any aberrations in the physical market that would disrupt the derivatives market."
He said that markets thrive where there is confidence and integrity and this requires transparency and good regulations.
"Farmers, producers and consumers need to have confidence that derivatives market are free from manipulations and market abuses. I am sure that Sebi would be successfully able to handle the additional responsibility entrusted to them," the Finance Minister said.
Mr Jaitley said that Sebi and FMC have been two extremely important institutions which have stood the test of time.
While commodities market has seen a tremendous growth in participation after liberalisation and the market participants and regulators should now brace to face the challenges thrown up by the global developments of ever growing exchanges and integration of markets, he added.
"Markets thrive on confidence and integrity. These are crucial times for India, we can't afford throwing away the opportunity presented by the advantages," he said.
Speaking at the event, Sebi Chairman U K Sinha said his first priority is to develop confidence in the commodities market, after which he would focus on development of the market including by way of allowing participation by banks and foreign portfolio investors (FPIs) over a period of time.
To a question on allowing FPIs, Economic Affairs Secretary Shaktikanta Das said that the government has to be alive to the overall price situation.
"As we go by, a balance need to be found between price stability and market development. We have to have a situation where prices do not become unusually volatile. There has to be policy certainty also. This is a challenging task and I am confident Sebi will be able to strike a balance," he said.
Mr Sinha said, "The foreign investors can alone manipulate the market is a misnomer, as even domestic ones can do it."
"We will be very cautious so as to avoid making mistakes in commodities trading, focusing on how to improve movement of prices, strengthen human resources," Mr Sinha added.
Mr Jaitley said India has become more aspirational and it is no longer satisfied with a 6-8 per cent band of growth.
"...when the world has slowed down and we stand out and are being popularly referred to as a bright spot. Still, our level of satisfaction is not adequate. We have to continue to change to evolve, to improve, to reform," he said.
Mr Jaitley said FMC was set up in 1953 through an act of 1952, but it did not adequately address the challenges of the new market regulatory regime required for the efficient regulation of the commodities derivatives market.
He said that the ultimate objective of the merger should be to reap the economies of scale and scope, "not only for its own sake but also to face the challenges thrown up by the borderless global market".
"The merger would bring convergence of regulations of the securities market and the commodity derivatives market."
"Both commodity derivatives and equity derivatives have similar economic purposes, hedging, efficient price discovery and risk management and have a close resemblance in so far as trade practices and mechanisms are concerned," he said.
"The merger will increase the economies of scope and economies of scale for the government, exchanges, financial firms and stakeholders."
"As there are strong commonalities between all kinds of trading, government, exchanges and financial firms would be able to harness economies of scale and economies of scope by undertaking or dealing will organise all financial trading with robust regulatory mechanism," he said.
"I am confident that Sebi is particularly prepared for this new role of regulating the commodity derivatives market, one of differences in regulating commodity derivatives viz-a-viz equity derivatives is that the underlying commodity derivatives will not be within the regulatory purview of Sebi."