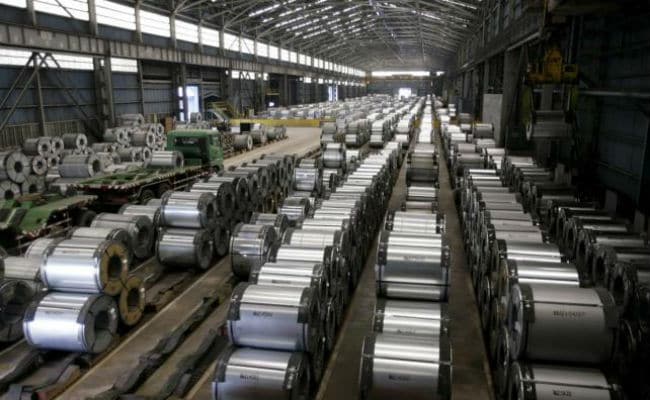 Highlights
Cement and steel sector saw double digit growth in November
The 8 core industries recorded a growth of 6.8%
Analysts said manufacturing is likely to see a "healthy expansion"
India's core infrastructure industries including steel, cement and refinery products have shown a strong growth of 6.8 per cent in November, 2017 from 5 per cent a month ago. This is a thirteen month-high after core sector industries registered a growth of 7.1 per cent in October, 2016. Robust double digit growth in steel and cement pushed the overall growth of core sectors that includes eight industries -- coal, crude oil, natural gas, refinery products, fertilizers, electricity, steel and cement, government data showed.
Growth in cement sector surged to 17.3 per cent from a decline of 1.3 per cent a month ago. Steel sector grew at 16.6 per cent in November from 8.4 per cent in October, as per data released by the Ministry of Commerce and Industry on Monday.
"Things appear to be looking up. The good performance in these two sectors is primarily due to demand in the auto and capital goods segments and pick up in the construction sector following higher spending by the government," Madan Sabnavis, Chief Economist, CARE Ratings said.
"The early indicators for industrial production in the organized sectors in November 2017 provide favourable signals. We expect the growth of the Index of Industrial Production (IIP) to rebound to a healthy 5-6 per cent in November 2017. The favorable base effect related to the temporary slowdown in activity after demonetisation, is likely to boost volume growth in a variety of sectors in the remainder of FY2018. Overall, manufacturing is likely to display healthy expansion in volumes in Q3 of FY2018, which should result in a substantial improvement in capacity utilisation on a YoY basis," Aditi Nayar, Vice President and Principal Economist, ICRA said.
Coal output contracted to -0.2 per cent in November, owing to a base effect in the past three months. The sector grew at 15.4 per cent in August before slowing to 10.4 per cent in September and 3.9 per cent in October.
Growth in electricity sector eased to 1.9 per cent in November from 3.2 per cent in October. Fertilizer sector growth further slowed to 0.3 per cent from 3 per cent a month ago. Refinery products grew at 8.2 per cent from 7.5 per cent in October. Natural gas slowed marginally to 2.4 per cent from 2.8 per cent, while crude oil production grew at 0.2 per cent from a contraction of 0.4 per cent during the period under review.
"Government's focus on growth and rise in demand for consumer goods is expected to further boost the industrial production numbers," Sabnavis added.